I have just ended the 2018 photography tour in Iran and here is a day by day wrap up of our itinerary, including some images that I took. The 2019 Iran photography tour will be pretty similar, with only some minor modifications that I describe at the end of this article.
But first I'd like to thank again Anne, Andie, Paul and Kevin for joining the tour and being so chilled out. I had a fantastic time and I know we all enjoyed this experience very much. This will stay with us forever!
If you scroll down to the very end of this post you can find the video we have created on the tour. I am sure you'll love it 🙂
Day 1:
After a welcome dinner on the previous night and the itinerary presentation, we took a morning flight to the city of Kerman, the door to the desert area. After landing there and meeting our expert guide Masoud we strolled along the local Bazaar to get started with people photography tips and techniques.
We also had our first introduction to the Kerman local food which hasn't been a disappointment. We haven't had a bad meal through the whole tour, even in our desert camps or in the most local restaurants. Most meals are composed of bread or rice, some amazing stews and grilled meat, also known as Kebabs.
Before sunset we moved to the hilly top part of the city to capture the beautiful light over the mountains surrounding Kerman, a great opportunity to warm up our landscape photography skills which will be very useful for the coming days. Even though Iran is a great place for people photography, it offers the most stunning landscapes that I have personally ever experienced.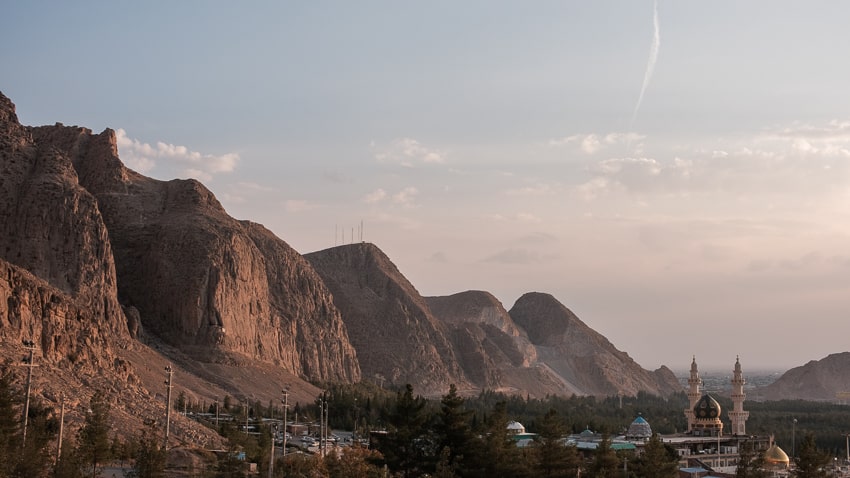 The night in Kerman is spent in a city hotel.
Day 2:
After a beautiful breakfast made of bread, cheese, honey and Jam (and plenty of tea and coffee of course!) we jumped into our minibus and drove to the area of Shahdad where the Kalout desert starts. The views from the road are just breathtaking and gave us a glimpse of the variety of landscapes we will be experiencing through the trip.
After arriving in Shahdad we checked in our exotic lodge for some more local specialities and met our 4×4 wheel drivers. This lodge is a great comfortable place where we will come back in the next couple of days to refresh and avoid the heat of the middle of the day. It has Western toilets and showers as well as magnificent food.
We then took off with our camp equipment to enter the Kalouts, one of the most stunning places on Earth, to catch the sunset. Our drivers seemed to have a lot of fun driving through the dirt roads and the feeling of adventure started to overwhelm us all.
We caught the sunset over some Yardang formations (the name of these very peculiar rock and sand formations which are quite unique of this area).
After some more minutes driving through the area, we reached the location of our camp, nestled among high yardangs. After another well-deserved cup of tea and admiring the full moon rising, we started our nighttime exploration and photography session in the Kalout desert.
This is one of my own favourite places to photograph even though I usually focus my photography on people. The place is just breathtaking and difficult to describe with words.
This photography tour is scheduled to take us to this area on the full moon day, allowing us to photograph the desert at night and not suffer from the heat of the day.
After some time, we walked back to our camp for some tea and dinner, prepared by our drivers and guide around the campfire. We had the unexpected visit of a desert fox who was very interested in our food, and I managed to take a few photos of it.
We then went for some more night photography, enjoying the full strength of the full moon. We were back in our tents around midnight for a short night sleep.
Day 3:
We woke up before sunrise in order to get in position and capture the sun coming up over the Kalouts. The quality of the light at this time allows us to get the perfect contrasts for our images.
After breakfast in our camp, we drove back to our comfortable lodge in Shahdad for a shower and a well-needed rest.
Early afternoon our drivers met us again and took us this time to camp into the sand dunes, another area in the Kalouts. We caught the sunset over beautiful sand dunes, before setting up the camp.
Another great opportunity to capture the desert under a strong moon without suffering from the heat.
Day 4:
We woke up once again for sunrise to capture the rising sun over the sand dunes. Our drivers and guide prepared an amazing breakfast made of fried eggs, bread and baked potatoes. A real delight! Before the sun got too strong we headed back once again to our desert lodge for a shower, and our minibus driver joined us to bring us to the village of Keshyt, where we could capture images of the lost city at sunset.
We have several stops on the way to capture the amazing scenery of the very dry area.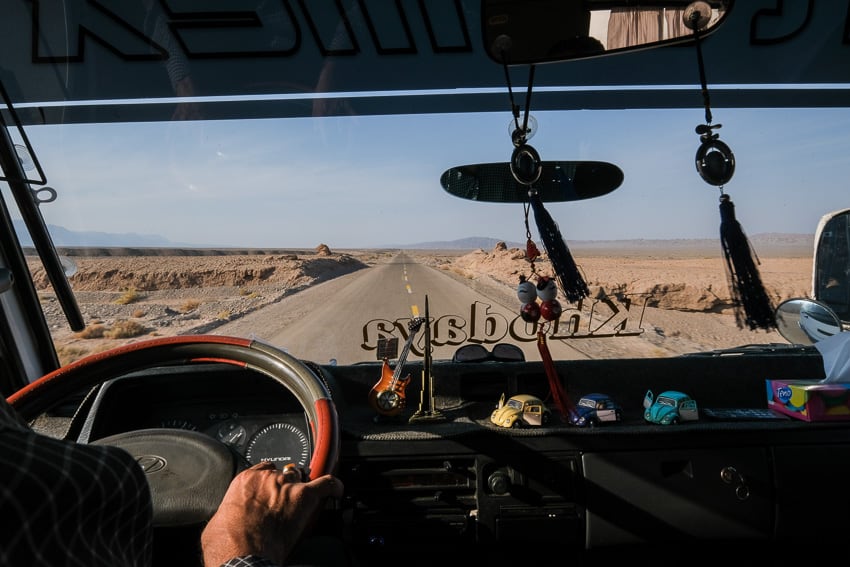 After some time walking through the old city we met a group of kids happy to show off their bicycle skills, before heading to the local house where we would spend the night in.
Day 5:
We started a bit later in the morning, and after a good cup of tea, we headed to the Oasis of Keshyt. This stunning area is made of a huge canyon where rivers flow towards the village, offering great colours and a variety of trees and plants.
We then started our long drive to the city of Yazd. We stopped en route for breakfast into a local village, having a picnic under the date palm trees. Serendipity allowed us to witness locals baking bread in a traditional oven, as well as capturing farmers in the fields.
On our way to Yazd, we stopped to visit a few local villages, where we met some very friendly pistachio farmers having a chat along the road.
We arrived in Yazd in the early evening and stayed for the next 3 nights in an amazing hotel, built around a Persian garden.
Day 6:
After all these adventures and a lot of early starts, we deserved a good night sleep. On that day we had a free morning, allowing us to sleep late, catch up with emails and family updates, as well as having a first look at the beautiful city of Yazd.
After lunch, we walked through the narrow streets of the city to capture the atmosphere of this peaceful city, as well as visiting some beautiful rooftops with great views on the famous wind towers and minarets of the Jameh Mosque.
After sunset, we started our exploration of the city at night, a time where the street lights create amazing photography opportunities.
Day 7:
That day we reserved for a great city tour organized by our tour guide Even though we travelled to Iran for photography, Yazd is the perfect city to visit some more touristic things and learn about the ancient Zoroastrian culture, which Yazd is home to.
Our visit included the towers of silence and a very photogenic Henna factory.
We also had a fantastic opportunity to have tea and some shisha in a former Henna factory converted into a tea shop.
After sunset and a great dinner on the city rooftops, we decided to go for another night photography session as we had so much fun on the previous night. The streets were busier on that night as people were visiting each other in their home to celebrate Arba'een festival, a religious observance that occurs forty days after the Day of Ashura.
We also entered a few shops, as people are generally curious about travellers coming to their country. A good opportunity for close up portraits.
Day 8:
As I mentioned before, serendipity had been following us for a while. In order to get to Kurdistan from Yazd, we had to fly through Tehran. As there were no direct connections to Kurdistan, we have about 6 hours to wait before our next flight to Kurdistan. We took this opportunity to head to Tehran's bazaar where the shopkeepers were celebrating Arba'een. This happened to be an amazing opportunity to capture some very emotional moments, and also a great personal experience.
After this great photo session and a visit of the "Nature bridge" in Tehran, we flew to Kermanshah in Kurdistan and were met by our local tour guide, an excellent guy called Mehryar. Being a Kurdish from Kermanshah, his knowledge of the area and its people and sense of humour were a great addition to our group. Mehryar brought us to a farm lodge where we met our host, a man that we will all remember due to his aura and passion for what he does: protecting the environment and educating children about many problems our world is facing today. This was for me a fantastic personal experience, and the dinner they prepared for us around a beautiful campfire made the day one of the best we had.
Day 9:
On that morning we took off in another minibus and headed towards the village of Palangan, nestled between cliffs in the heart of Kurdistan. Our guide Mehryar was very amused when we asked him to stop the bus and rushed out to photograph sheepherders in the morning light. Kurdistan is a sumptuous area covered by mountains chains, creating stunning backgrounds.
After a few more stops to capture the beauty of the area, we arrived in Palangan and headed into a local restaurant that prepared the local speciality for us: fish Kebabs! I didn't know fish could be so good, along with thin local bread, green olives and pickled vegetables. And of course, I would never miss an opportunity to have some local doogh!
After lunch, we walked through this amazing village to capture the local life and the very peculiar architecture of the houses.
Later in the afternoon, on our way back to Kermanshah, we stopped along the road and met some very friendly strawberry farmers, who of course took the opportunity to feed us some more with some local corn kebabs.
Day 10:
After a good breakfast in a very comfortable hotel, we flew back to Tehran. Time for a tour debriefing and saying goodbye, everyone was dropped in their respective hotels.
2019 tour updates:
On the last day of the tour (day 10), we will fly back to Tehran in the late afternoon, allowing us to spend more time visiting the city of Kermanshah and capture some more landscape images of the amazing mountains surrounding the city.
Also for 2019, the Arba'een festival will take place on October 19th, meaning we will be able to capture it while in beautiful Yazd.
All details of the photography tour in Iran for 2019 are available here, check it out.