The first photography tour and workshop in Central Vietnam started the new year with a bang! I was lucky enough to be joined by Chris Cusick from Angkor Travel Photography to co-lead this tour with me – a tour which focused on people photography.
Nine participants of completely different levels could have been a challenge, but luckily Chris and I have been teaching photography for years so we were well prepared. It was also one of the funniest groups I have ever had… my jaws were literally sore at the end of each day from laughing so much!
Obviously, in these weird and panicked times, we ended up having a lot of virus-related discussions. So much so that we decided to rename this tour the "Corona Photo Tour 2020". Here's what it entailed…
Day 1: Fishing Villages and Peanut Harvests
We started early (and with coffee!) to reach our favourite fishing village. Even though we were unlucky with fairly cloudy weather on that morning, the light was moody and the place was busy with people. Silver linings!
This presented a useful opportunity to start introducing more complex composition techniques; such as layering and waiting for the right moment. But mostly, as we know the people in the villages we travel to, it was a great chance to show our participants that it'd be more than ok to take photos of these locals. They're very friendly and also open to being – photographed, which is very different from in the West.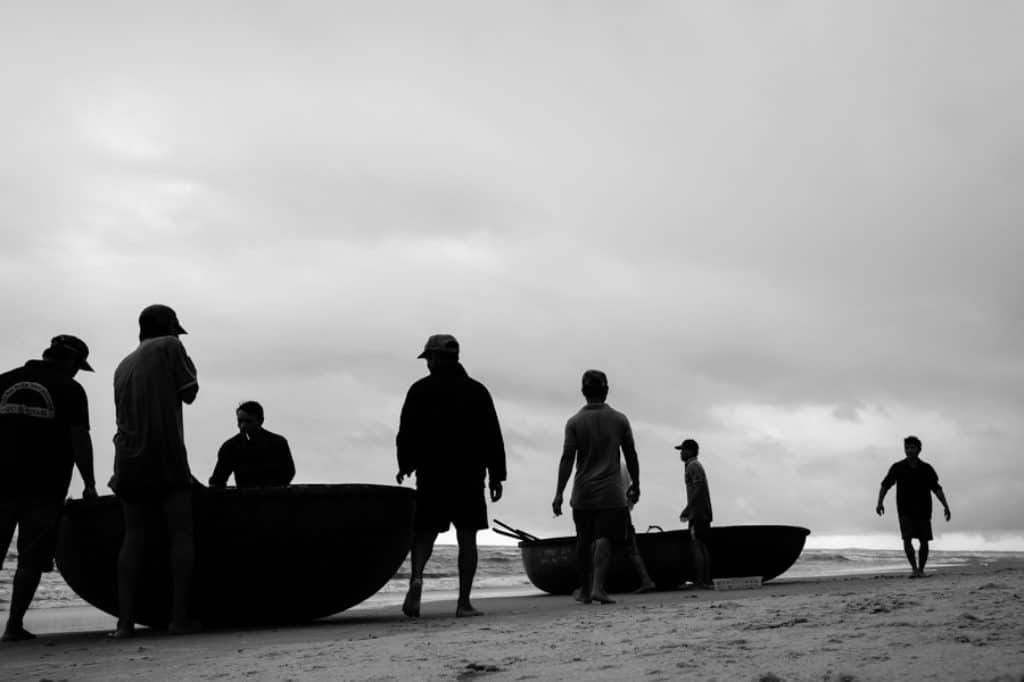 After breakfast – and another coffee – we split the group in half before walking through the local market and narrow streets, capturing more quiet scenes. The sun showed up eventually and we started working on specific photography techniques that incorporated its light.
After a couple of happy snapping hours, we drove back to Hoi An and grabbed an early lunch before sending everyone back to their hotel for a well-deserved rest.
In the afternoon we drove to the countryside around Hoi An, as we knew the peanut farmers there were in full harvest. It was a fantastic afternoon – the fields were busy with people which encouraged us to slow down our own process, working the scene, helping our students to adjust their compositions on the spot.
Back to Hoi An for an early dinner in Ba Le Well restaurant, where we had fun rolling our own food!
Day 2: Fishing Nets, Busy Markets and Lang Co Lagoon
Another early, caffeine-fuelled start to go and capture the fishing nets on the river at sunrise. (By that stage the weather had cleared completely and the next two days were filled with amazing sunrises and sunsets. Phew!)
We were lucky to find several fishermen attending their nets at exactly the right time – and our smaller boat could navigate quickly to catch them mid-action.
Time to dock near a busy local market, where we had coffee and breakfast. Next, we spent two hours walking around the market and working on the light which fell on the people walking around. This was a great exercise: to simplify what was a very busy scene to photograph (markets are, by definition, busy and messy).
After arriving back to Hoi An we took a break for a few hours, before meeting again for lunch and departing for our afternoon destination: Lang Co Lagoon.
When we arrived, we spotted a woman harvesting clams from the muddy lagoon, plus a group of people unloading oysters from their boats. It was such a fantastic opportunity to apply all the things we had previously learned; like using the light to layer more information and to capture more meaningful compositions.
Later on, we drove to my favourite spot along the lagoon, where we could capture the fishermen as they headed to the middle of the lagoon at sunset. It's always a great place to photograph but especially when the sunset colours pop.
We took this opportunity to try out our tripods and ran a quick landscape photography workshop to prepare us for the following morning.
After sunset, we drove to our hotel and had a fantastic dinner with local Hue style food and "a few" beers. 😉
Day 3: Corona Suspicions and Final Photo Reviews
The funny thing about this particular weekend was that it coincided with the outbreak of coronavirus in Vietnam. (Ok, maybe not "haha funny" but still…)
Apparently some young and rich Vietnamese woman brought the virus with her to Vietnam (she lied about the fact that she was in Italy, and I sincerely hope her elite status will not stop her from taking the blame).
During the tour, we heard that there were two foreigners suspected of having coronavirus, who were quarantined in the fancy hotel next to the lagoon. So when we showed up at Lang Co, some people thought that we were staying in the hotel. We witnessed a few people almost running away from us, which is something I have never, ever experienced in Vietnam! I was in shock, and could not imagine living and running photo tours in a country where people don't want you to visit them. Hopefully, the situation will quickly get back to normal.
Still, that did not stop us from having an awesome morning! We started with a landscape session – based on our workshop from the day before – capturing the stunning sunrise colours. After the session, we visited the local fish market and even though some people were suspicious of seeing us there, most of them were going about their business without worrying about us.
When the weather started to get really hot (summer is almost here!), we headed back to our hotel for a quick shower. Then it was time to return to Hoi An for a great banh mi lunch and a closing photo review.
Chris and I saw some amazing photos during this review session, which was also a brilliant learning experience for our guests. It's always interesting to see what other people shoot when they're in the same location as we are. We saw great creativity, use of light and composition.
Interested in a Photo Tour?
If you want to experience the same kind of learning, laughs and landscape that we had on our March 2020 Photo Tour, why not come along to the next one? We look forward to showing you what makes this area of Vietnam so very special.