And it's a wrap! I just ended the first edition of my "North Vietnam Reflections" photo tour, like yesterday! And once again we went and captured some incredible images of these stunning locations. As usual, I am preparing a tour report so you can see the detailed itinerary if you consider joining this tour.
North Vietnam photo tour Day 1: incense village and drive to the mountains
Even though the incense village is infamous for welcoming groups of photographers who will stage their images, this place still offers excellent photo opportunities. People actually work the incense and you can choose to take candid photos if you want to.
And the incense village is not only about incense. There are plenty of tiny narrow streets where we can meet the people doing all their crafts. Many activities happen here from bamboo cutting to incense dying to basket making. And if you do not stage your images and learn to be a good photographer you can capture great photos there!
As we spent quite a lot of time in these villages in the morning, we left Hanoi a bit later than usual and arrived in Bac Ha later in the afternoon. But these villages were so good we just couldn't leave!
North Vietnam photo tour Day 2: Market and Rice planting
On day 2 we started with our first minority market, close to the town of Bac Ha. A real dive into the ethnic tribes' lives and some really good opportunities to work on shooting busy market scenes. After the market session, we decided to go and visit a new village in the area. We walked around for a little bit before being invited for tea at a local house. And of course, there were cute kids sitting near the fireplace!
Later that day we reached Muong Hum and ventured into the fields to capture the people planting rice. Our local informant told us in which valley we could find some activities, and it did not disappoint! I was on a personal challenge to capture the best reflection shot I could, and this was a good beginning.
North Vietnam photo tour Day 3: Village Life and portrait photography
We took a morning stroll through the market of Muong Hum, home to a lot of Hani and Red Dzao tribes. This is a very relaxed market and is located right next to our hotel. This allowed for a relaxed morning walking around, meeting the people, trying the local foods and of course taking photos!
Later that day we drive to our next destination: Y Ty. We spent the afternoon visiting one of my favourite Hani villages. As it was Sunday the village was very busy with people and kids playing around, offering some really good photo opportunities! The day actually ended with a cold beer from our hotel balcony, admiring the beauty of the sunset! Not a bad day at all!
North Vietnam photo tour Day 4: More villages and muddy feet
As most of the rice in the valley of Y Ty has already been planted, we decided to spend more time in the surrounding villages, capturing people's daily lives. As we took our time to walk and meet the people, we managed to get invited to several family houses, where the light can be very interesting. This was a great opportunity to work with light and portrait photography
Later that day we started driving to our next destination: Ta Giang Phin. On the way, and as we knew Muong Hum was still busy with rice planting, we tour a detour and found more fantastic photo opportunities. And yes, given how fantastic these photo opportunities were, we had to get our feet in the mud! Adding more fun to the tour, as usual!
Day 5: Photo review and village walk
Halfway through the trip, time for a more relaxed morning. A nice "slow morning" as we called it. We slept in the morning and had a photo review after breakfast. Later that afternoon we left to take a big stroll through what is actually my favourite village in the whole of North Vietnam: Ta Giang Phin. It is just incredible the amount of good photos that we take in this village. Every year we come here, it ends up being one of the most photogenic locations of this tour. And it is busy with people working in the village and in the fields. Lots to shoot over there!
Once again I was hunting for my reflection shot and got a few out of this fantastic afternoon photo session.
North Vietnam photo tour Day 6: More rice activities and village life
Even though this day was supposed to focus on the tea fields of Tan Uyen area, the lack of rain and water from the previous weeks made the tea harvesting delayed. Instead, we found groups of Thai and Hmong people harvesting rice.
It's funny how you can witness completely different stages of rice growing when travelling from one valley to the other. While people were still planting rice yesterday in Ta Giang Phin, people were harvesting rice 60 km away.
Day 7: Rice Harvest and village life
On that morning we explored a new road that I found using Google Maps. It's an extremely beautiful road that circles around the valley of Tan Uyen and allows us to spot any human activities happening there. We also discovered that there were many Hmong villages spread along this road. We enjoyed the best afternoon light to take a walk through the village dn meet the people.
It was fascinating to spend almost an hour in someone's house as they were using their local fabrics to make clothes. As some participants were shooting the details of fabric making, I did camp in front of that plastic tarp, that has a wonderful light on it. Lucky me, a boy decided to walk out soon after!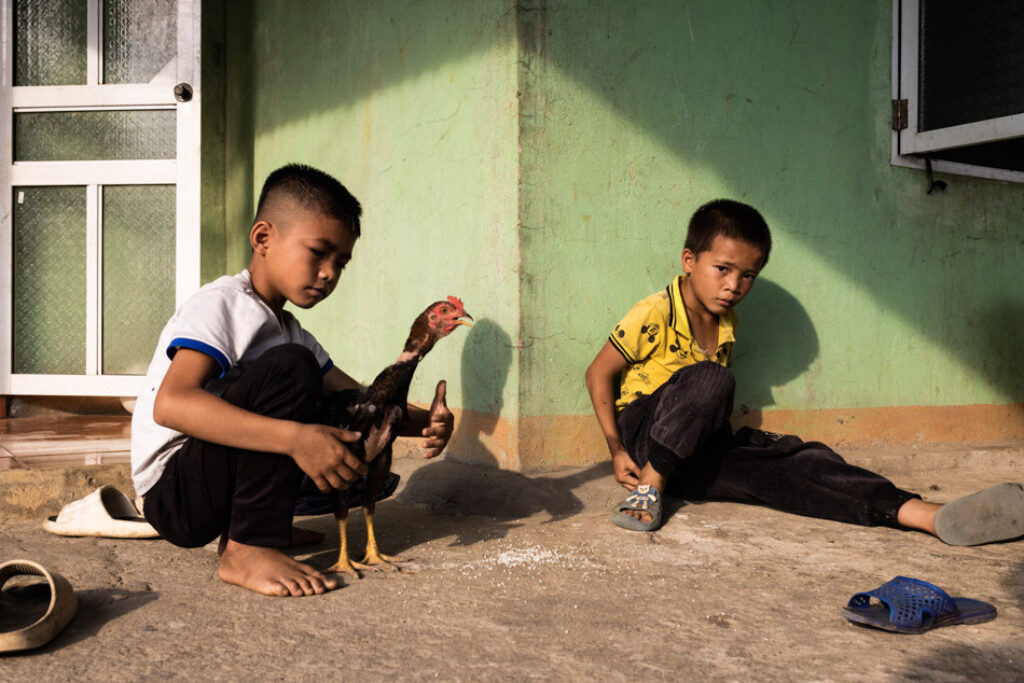 North Vietnam photo tour Day 8: The final reflection shot!
On our last morning, we left Mu Cang Chai to begin our journey back to Hanoi. As usual, we stopped in a fantastic valley where we took a stroll through the narrow streets. Later on, we ended up in this valley where we spotted a group of people planting rice. It was the last day, and the last chance to capture some cool reflections. Needless to say, I got my feet a little bit muddy on this one. Well worth it!
We then began our final drive back to Hanoi and had our final photo review in the van.
This excellent photography tour will of course happen once again next year. Have a look at the tour details if you'd like to join!