Another month of September, another month spent exploring Northern Vietnam and its endless rice terraces. Given that last year's photography tour was almost perfect, there were only a few minor changes to this year's itinerary. What I had in mind, though, was to spend more time in the tea plantations between Sapa and Mu Cang Chai.
And this we did successfully! This was the first time that I was faced with such amazing photo opportunities of people working in the tea plantations in North Vietnam, and sharing that with one of our partner photographer, my friend Lee Starnes, has been a great experience.
From the Sunday market of Bac Ha to the remote region around Y Ty, and the tea plantations of Tan Uyen, we found human activity in every valley as September is the rice harvest time. People are busy working on the rice terraces and offer plenty of great photo opportunities. After 6 years running photography tours in the North, we are now confident in our knowledge of the area and its people.
The itinerary for the 2019 tour will be pretty similar with only a few modifications, described at the end of this article.
Day 1: Morning in Hanoi – Afternoon drive to Bac Ha
Day 2: Bac Ha market – Drive to Muong Hum and Y Ty
Day 3: Day in and around Y Ty – Photo review
Day 4: Driving back through Muong Hum valley – Afternoon drive to Ta Van through Ta Giang Phin village
Day 5: Day in Ta Van – Photo review
Day 6: Driving to Tan Uyen – tea plantations workers
Day 7: Morning in Tan Uyen – Drive to Mu Cang Chai
Day 8: Morning in Mu Cang Chai – Drive back to Hanoi
Day 1:
After breakfast at our hotel, we met our guide, Son, with whom I have been working for the past 6 years now, and embarked into our minivan for a drive to the mountain town of Bac Ha.
This drive gives us time to start discussing different camera settings and composition techniques, as well as dealing with busy environments.
After checking in our hotel and having a great dinner with local rice wine, we went for an early night.
Day 2:
Starting early on this day allows us to visit the Bac Ha market before more of the tourists arrive. Even though Bac Ha is well known by travel guides and visitors, we rarely see other visitors before 8 am. This allows us not only to capture a more authentic market but also to work with the best morning light.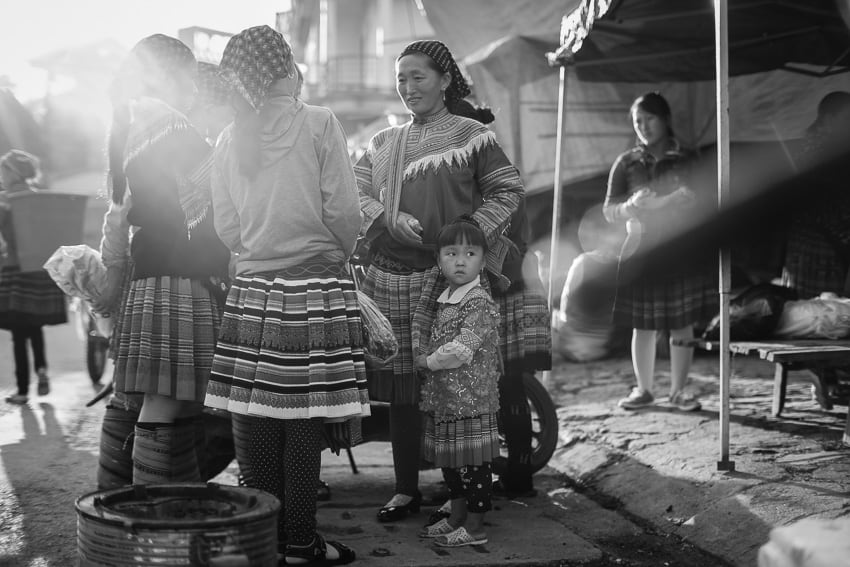 After the market and breakfast, we embarked on a journey through some of the beautiful mountains of North Vietnam, which bring us to the valley of Muong Hum, one of my favourite. As September is rice harvest time, we had plenty of opportunities to stop on the way and to go meet the Hmong and Dzao people working in the fields.
We then ended the day with a short drive to our final destination for the day: Y Ty. Being a very remote village, with stunning terrace rice fields, we spent the next 2 days exploring the valleys and villages.
Day 3:
On that day we allowed ourselves some time in the morning to do our first photography review. As we are in the mountains, there is no need to start very early as there is no proper sunrise. After the photo review, we drove through the valley of Y Ty and met some of the people working in the rice fields. We also went to visit a traditional village where houses are still made of clay and mud, home to the Ha Nhi people.
On that evening, the owner of the local restaurant, whom I have learned to meet and appreciate over the last few years, treated us with some of his very special rice wine.
Day 4:
We started a bit earlier on that morning and drove back through the Muong Hum valley, witnessing some mesmerizing landscapes. Lee took this opportunity to fly his drone, capturing great images.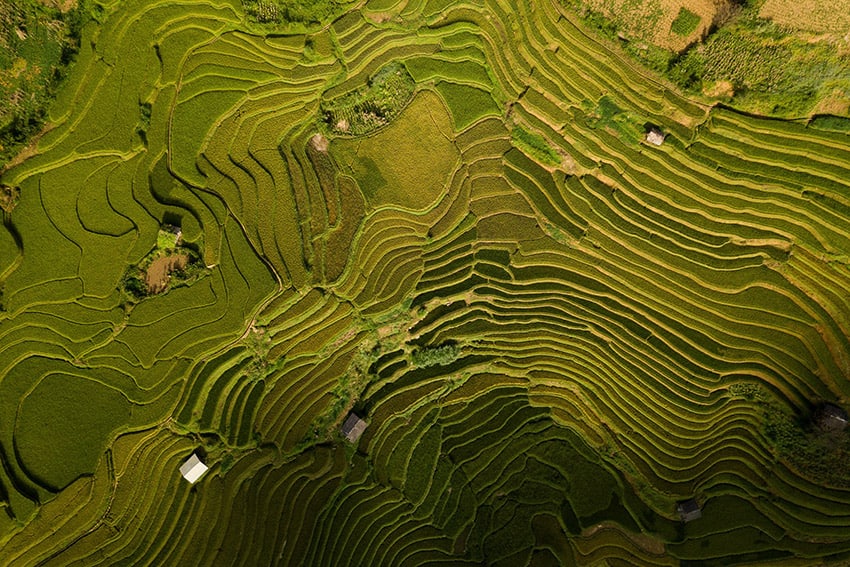 After lunch into a local house, organized by Son, we drove to Ta Giang Phin village. Unfortunately, it was raining on that day so the rice harvest was at a stop, but last year we captured fantastic images in that village!
After that wet afternoon, we drove to our final destination of Ta Van, where we could spend the next couple of more relaxing days (after running around the fields for 4 days now!). Driving through Sapa, I got even more convinced that there is nothing left there for the kind of tourism that I enjoy.
Day 5:
After another photo review on that morning, we spent the afternoon walking through the splendid valley of Ta Van. This remains very pretty and home to a great Hmong community, which guarantees a lot of activity in the rice fields. People, also more used to seeing tourists there, are very friendly and easy to approach and photograph.
This is a more relaxing day, for everyone in the group to catch up with sleep.
Day 6:
We left on that morning for Tan Uyen, home to the Grand tea plantations. The road from Ta Van to Tan Uyen goes through some very high pass, allowing us for some great photo opportunities.  We also found one of the best buffalo jerky meat I ever had, and driving the rest of way while chewing on it made things much more fun!
On that afternoon in the valley of Tan Uyen, we spotted a huge group of Tay people picking tea leaves, with the amazing mountain range of Tan Uyen in the background. We rushed out of the car and sent the rest of the afternoon, until sunset, chatting with the ladies and photographing them at work. A super fun afternoon!
Day 7:
On the previous day, we had spotted what is to me the most beautiful tea fields valley of Tan Uyen, and we decided to head there early morning as some locals told us the previous day it would be busy. And they didn't lie! This was a fantastic morning, walking through the tea fields while the sun was rising in the background, enjoying the morning mist rolling over the mountains.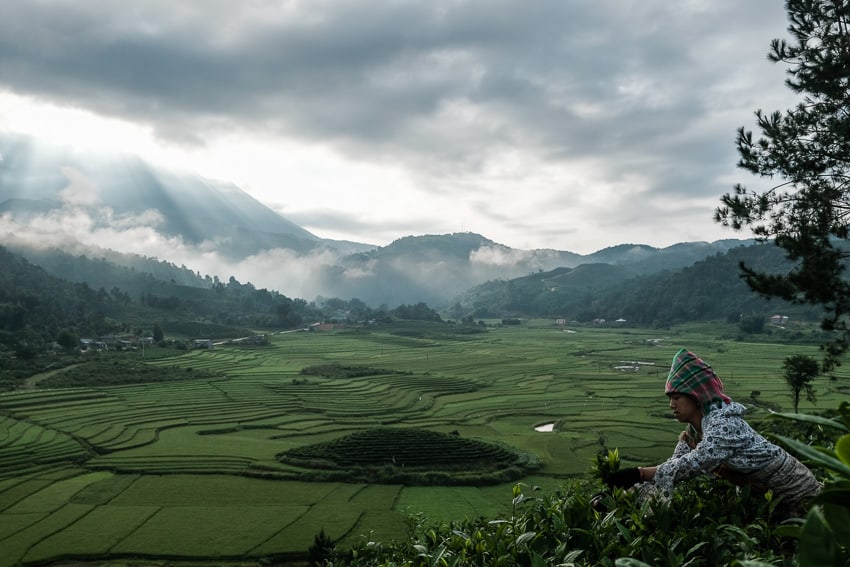 After lunch, we drove to Mu Cang Chai, where the hospitable hosts of our homestay welcomed us. This is a traditional Tay house, built on stilts. They also cooked some amazing local food for us, very welcome after a long day taking great photos.
Day 8:
That day was spent exploring the famous rice terraces of Mu Cang Chai, as well as getting lost into the surroundings. While there was a big group of local photographers setting up photo with models on some rice terraces, we managed to capture stunning photos at almost the same location, of people carrying elephant grass and coming back to their villages.
Mu Cang Chai is also a great opportunity for close up portraits, as people are getting more and more used to seeing foreigners.
We headed back to our homestay for another very fulfilling dinner!
Day 9:
Drive back to Hanoi.
North Vietnam still offers the perfect balance between people and landscape photography, and the blending of both.
Join us in 2019 for 8 more days of exploration in North Vietnam!
North Vietnam 2019 tour updates: 
Unlike the 2018 tour that let us catch the Bac Ha market, we will be catching a different market (Coc Ly) on day 2 of the 2019 tour.
You can also found a wrap up from the 2016 tour here.