What a week we just ended! Our first photography tour in Sri Lanka has been running smoothly, due to a great itinerary and perfect weather. Once again, serendipity followed us and the rain, which was hammering the country every day, stopped the day we arrived and started again the day we left.
On top of that, Lee and I were joined by a fantastic group, people that we already knew as they had joined other photography tours in the past. It just felt like travelling with friends.
Day 1: Negombo, its fish markets and crows.
There is something very distinctive about Negombo: its constant fish smell and the clouds of crows flying in the sky. Something to be used, as a way to fill our skies when needed.
We started in the early morning by visiting the busy fish market, enjoying the morning light and the busy activity of the fishermen. Towards the end of the morning, Lee spotted a man throwing his net into the river, allowing us to work on different composition techniques.
On the afternoon, after a photo review at the villa, we explored the beach area of Negombo, where fishermen dry fish in the sun for most of the day. There are a lot of things to capture there, as there is also a small fish market with people sorting out fresh fish before it gets dried.
On that night we stayed in an incredible villa, giving the trip a real comfortable feeling.
Day 2: Driving to Kandy and exploring jungle villages:
On that morning, and after a sumptuous breakfast at our villa, we left with our driver to Kandy. Before reaching Kandy we stopped for a walk through villages nestled into the jungle, where we could witness people doing handicrafts as well as a lot of local fauna and flora.
We also witnessed, to our surprise what happens when locals go overboard while pimping their tuk-tuks!
Day 3: Train day and tea plantations
After breakfast we left for Kandy train station, getting ready for one of the most beautiful train ride in the world. The 4 hours ride took us through the amazing Sri Lankan landscapes and tea estates, perfect photo opportunities.
Some minutes before arriving at our destination, we spotted a group of people picking tea leaves in the fields and decided to go and join them with our minivan. And that was a wonderful idea! We spend the following couple of hours photographing the Tamil people slowly picking up tea leaves while chatting with them and their supervisors about their way of life. A great experience, combined with a beautiful sunset!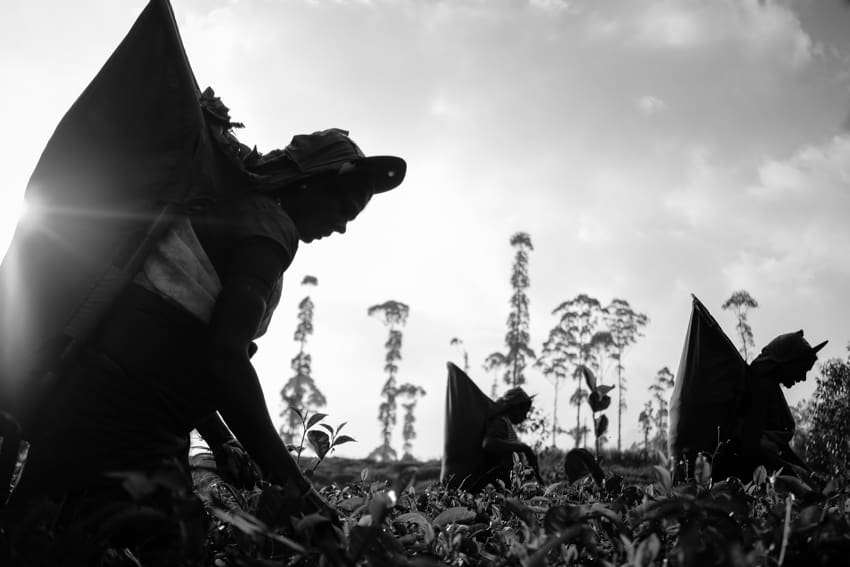 After that, we drove a little longer to reach our destination for the night: Nuwara Eliya.
Day 4: From Nuwara Eliya to the South Coast
We left a bit earlier that morning as it would take us about 6 hours to reach the South Coast. We had several great photo opportunities on that morning, including more people working in the tea plantations.
Later that afternoon we reached the South Coast and caught the sunset in a fishing village, not far from our hotel in Unawatuna.
Day 5: Fish market and seascapes.
Another early start to go and visit the fish market of Mirissa, one of the busiest in the country. Countless photo opportunities in this very busy market where the boats come and unload their fish in front of the buyers.
We took some time off after this market to enjoy our splendid hotel and take a swim, before heading to another village where fishermen push their boats at sea.
This is also a great area for landscapes and seascapes at sunset.
Day 6: Galle
We headed to Galle, the anciently fortified city build by the Portuguese. That morning was dedicated to another photo review as well as some Lightroom tutorial.
In the afternoon we went to explore Galle's wet market and its friendly people. One of my personal highlights from that afternoon is meeting a very nice gentleman who was tailoring clothes for some of his friends. A perfect photo opportunity to work on capturing more creative portraits.
We ended up on the fort for sunset, capturing people playing crickets.
Day 7: Colombo
We left in the morning for Colombo, the big city. On the afternoon we walked through the market and train station, superb locations for people photography and portraits.
The 2019 Sri Lanka photography tour will follow the same itinerary