After a great first outing last year, Pics of Asia returned for its second photography tour of Sri Lanka. And once again, the teardrop-shaped island did not disappoint.
What's great about Sri Lanka is that you can balance luxury accommodation with very non-luxurious locations for photography, such as smelly fish markets and muddy tea fields. It makes for a great mix of creativity, adventure and comfort – a combination that makes it probably the most chilled-out photography tour run by Pics of Asia!
Day 1: Smelly Markets, Bird Spotting and A Luxury Villa

We started our tour just north of the capital, Colombo, in the bustling coastal town of Negombo.
After spending a splendid first night in our amazing luxury villa we rose early to visit Negombo's fish market. It was an exceptionally busy day there – with big boats bringing back big hauls of giant tuna fish, sharks and all sorts of other sea creatures.
The hustle, bustle and fish stink provided a great start for the workshop. The group were flung straight into the action and had no choice but to practice photographing busy situations and complicated compositions.
We waded through smelly fish water to get the best possible photos of the bustling market, chatting and joking all the time with the friendly locals.
After a well-deserved cup of sweet tea (the first of many), we found a group of fishermen casting their nets on the river – at the same spot Lee found them on the previous year. There was a huge amount of activity around, with other groups of fishermen cleaning their nets under the constant watch of cranes and crows.
After a hearty breakfast back at our hotel, we dove straight into our first photo review. This first assessment is always useful in determining the participants' photography expertise – it's also a point at which we can try to fix some obvious and easy-to-rectify recurring mistakes early on.
Rested and fed, we headed back out to Negombo Beach – a long stretch of sand where people dry fish and pack it for the export market. A family of fishermen landed their boat directly on the beach, where they started sorting fish and cleaning their nets. As the family worked, some fantastic photo opportunities arose – in fact, it proved to be the ideal situation to practice using a very wide-angle lens for people photography.
Note: Photographers will know using a wide-angle means getting close to the action… like, really close. When you are snapping fishermen close-up, you're probably in the "splash zone"; meaning we spent the afternoon regularly getting splattered by fish scales and bombarded by whole anchovies. Let's just call it a "full immersion experience"!
Further up the beach, we came across a fisherman casting his net into the ocean. We hung around, chatted with him and his friends and complimented him on his obvious top-notch fishing skills.
Later, walking back through the market, we unexpectedly stumbled upon some great "wildlife" photo opportunities thanks to a dramatic-looking tree and a flock (or 'murder', for you pedants!) of ominous crows.
A day in a fishing town like Negombo wouldn't be complete without a fish supper – and we ended ours in true style with a seafood feast on the beach, our tired toes buried in the sand. Bliss!
After such a fun day of photography, the group was buzzing and we stayed up pretty late selecting and commenting on our images. Roll on, Day 2!
Day 2: Countryside Life and Bus Challenges
To make the most of our luxurious villa we started a little late on Day 2. We enjoyed a leisurely breakfast before being collected by our local guide, boarding the van and heading up the winding road into the mountainous centre of Sri Lanka. Our next destination was a pretty "sweet" one: the historic city known as Kandy.
The drive to Kandy was a pretty smooth one; three hours of pleasant landscapes and fun food stops. Before arriving in the city we stopped for a village walk, allowing us to get a feel for the more jungle-like scenery of central Sri Lanka. We met some lovely people on the way, slowly walking through the fields and villages. We even got invited into someone's house, receiving a guided tour of his garden and the opportunity to sample some exotic fruits.
We arrived in Kandy just before nightfall. As we all had some energy left, we headed straight to the market and spent some time with the local butchers, who work standing under electric lights.
It was during this session, watching how interesting the bus-heavy area outside the Kandy market is, that the idea for the Bus Challenge was born. "What's the Bus Challenge?" I hear you ask?! Well, more on that later.
After some time, we checked in our city hotel in Kandy – it had a perfect central location and was ideally located for amazing local food.

Day 3: Train Rides, Strange Tea Pickers and Dolphin Hunting
Day 3 was our big train day. And if you know anything about train rides, you'll know that Sri Lanka is famous for them. The journey between Kandy and Nurawa Eliya is constantly making Top 10 lists for the most scenic journeys – not just in Sri Lanka, but in the entire world! So it was something we were all looking forward to.
Our train kept us waiting for an hour in Kandy station – but none of us minded because train stations are always full of photographic opportunities! So we happily snapped away.
Note: The trains have changed recently in Sri Lanka (making them harder to shoot in) but it's still possible to photograph from the open windows. We could also hang from one of the open doors – a fun thing to do if you make sure to get a good grip!
We rolled past some truly fantastic landscapes, sloping mountain sides covered by tea fields and giant trees.
Because of the previous year's experience, I knew exactly where we would find lots of activity: in the tea fields close to our last stop. After we'd clambered off the train, we jumped into the waiting car and headed straight to the fields. We discovered a very colourful village where the tea workers live, and one of them took us into the field where over 30 women were busy picking up the tea leaves.
Alas, that day, the weather gods weren't on our side. As soon as we stepped in the fields, a herd of dark clouds conspired against us by blocking the sun and hiding the beautiful late afternoon light. Still, we made the best of it, and had a really fun time chatting with a particularly "strange" local lady!
Once it got dark we drove the final 20 minutes to get to our hotel in Nurawa Eliya (The Windsor Hotel). Dropping our bags, we then hit the streets for a spot of 'dolphin hunting'. We went in search of a restaurant I remembered from last year that had the best Dolphin Kottu in Sri Lanka. (And, before you call PETA on me, it's not a dish made from dolphin meat – just a memorable name for a popular artery-clogging Sri Lankan fast food, made of chopped-up roti and curry. Weird name, yes, but wow is it divine!)

Day 4: Tea fields, Mountain Sides and Sunset on the Beach
After breakfast, we checked out and left the hotel to start our journey down to the South Coast. After only 15 minutes drive we saw a big group of people working in a tea estate outside of Nurawa Eliya. The light was already a bit harsh (at 8.30 am), but you know us, we made the best of it!
The women were working in separate groups of 2 or 3, creating patches of colours amongst the greenery. A perfect opportunity to create shapes in our image and lead the eye through the frame.
Later in the drive, we came across another group of women working in the fields – so we took one last opportunity to fill our memory cards with mountainous landscapes before hitting the beach.
In the afternoon, we arrived back down at sea-level, on Sri Lanka's beautiful South Coast. Instead of heading to our hotel we decided to go straight to a village I knew of that would offer fantastic landscape opportunities. Giant waves crashed directly onto the rocks, facing the sunset. For the group, it was a moment of pure relaxation after a long drive – we shot away with our feet resting in the water. Once again, bliss!
One of the best things about Sri Lanka is diversity. In just one day you can go from tea-covered mountainsides, through jungle landscapes, to emerge onto beautiful beaches. We ended another fun-filled day by checking in at yet another luxury hotel, before a great seafood dinner and an energetic game of table football.

Day 5: Photo Reviews, a Frenchman Playing Cricket and Falling for Galle's Charms
Because of the beauty of the hotel we were staying in, we enjoyed a late morning and a great breakfast. We then continued our day with another photo review. Our group worked through the images we had taken from the previous couple of days – discussing composition a little, but mostly how to really make an image really stand out. I loved this session because the advanced level of all participants meant we were able to discuss more complicated ideas and spent most of the morning deliberating on how to read a scene and how to anticipate action in order to get the shot.
After lunch, we drove west to Galle city, checking into our beautiful heritage hotel within the historic walls of Galle Fort. We then spent the afternoon strolling around the fort, capturing the local people walking around at sunset.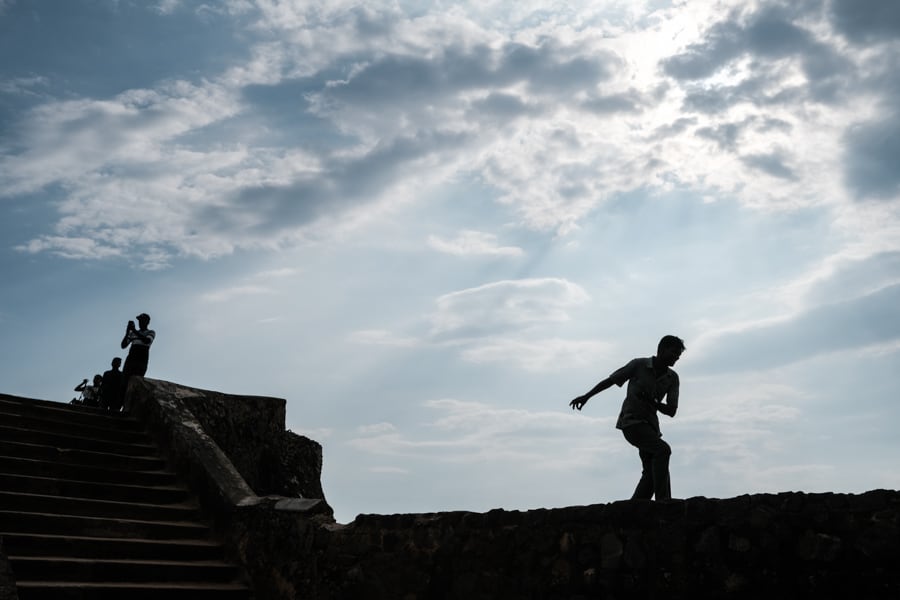 Sri Lankans love cricket and they take every opportunity to play it! Galle Fort has a number of open grassy spaces and as soon as the heat of the day fades, they're full with bat swinging and ball throwing. Very soon we were invited by a group of young men to join them in their game. Having an Australian cricket fan on the group, I decided I had to finally try to get my head around the crazy rules! The two of us must've played for a good hour, while the rest of the group captured sunset scenes around.
We finished the day with another feast of delicious local food. It was a great end to a truly beautiful afternoon. Galle's charm is undeniable and in just one afternoon, the entire group had fallen in love with the friendly, chilled and laid-back vibes of this historic port town.

Day 6: Fish Butchers, A Man Called Raji and a Pretty Good Backup Plan
After a few lazy mornings in a row, we more than made up for it on Day 6 with an early start to catch the sunrise and the morning light at Mirissa's fish market.
Marissa boasts one of the busiest fish markets on the South Coast, and the fishermen here land some of the biggest fish I have ever seen people fishing. Tuna, manta rays and sharks are all unloaded from their boats. It's impressive to witness and photograph… but quite sad at the same time to see these giants of the deep at the end of their life.
Over the course of the morning, we spent quite a lot of time with the "fish butchers" – skilled individuals hired to cut the giant fish into manageable pieces. Having witnessed their talents close up, I can confirm these guys are truly masters of fish cutting and the fact that crowds of locals gather to watch them work confirms this belief!
After the market (and another sweet tea) we walked outside to capture some more simple scenes. Such as the morning light filtering through the trees as people left the market on their bicycles.
We went back to our hotel for breakfast, a long shower (to get rid of the fish splatter) and a rest. We met for a late lunch, before continuing our exploration of the South Coast of Sri Lanka. I had several spots in mind and we had to drive around them to see where we could find some activity.
We started with a small fishing pier where we met Raji, a very fun and friendly man. There he explained to us all about their fishing habits: when they go fishing, when they come back, who's the captain and who's the rich man who owns the boats. We snapped some photos as we chatted; one of the best ways to come up with more creative portraits.
Later on, as a few of my spots were relatively quiet and without that many people around, I used my back-up "landscape" plan. We stopped in a location where the waves smashed against the rocks. There were palm trees on the right side to frame our image and a beautiful little island over the horizon. We decided to stay there for the sunset so we could find the best spot.
While trying to get a little too close to the splashy action, I got soaked by a sneaky wave. Not only did I miss the shot but the saltwater resulted in my camera on/off button getting stuck. Damn me and my attraction to water!
And then it happened. The threatening clouds (which were hiding the sun) suddenly opened, letting a divine light filter through. It only lasted 10 minutes, but the light was sublime and as we were already in position, the group managed to capture some mind-blowing shots.
It might have started off as a backup plan, but this spot will definitely be somewhere I'll bring the group in 2020!
We headed back to our hotel after sunset and gorged ourselves yet again on amazing food.

Day 7: Tea Shops, Downpours and A Sunset Goodbye
Day 7: Our last day. I had already announced to the group earlier in the week that I knew the most photogenic tea shop in Sri Lanka. (And Sri Lanka has a lot of atmospheric tea shops so this was quite a claim.) But I was confident it would not disappoint.
We got up early so we could be there for the opening, around 6 am, and the light was perfect. This tea shop is one of my little secret spots and once again it delivered stunning images.
After our fill of sweet tea, we explored a small nearby fish market for some time. We also met a man who feeding a flock (sorry, 'murder') of crows. Well, when I say "met", he didn't exactly talk much, but he was feeding the crows and he was photogenic. That would do.
We went back to our hotel for breakfast and a rest, before our final 2-hour drive back up the west coast to Colombo. Once in the capital, we spent the afternoon visiting my favourite locations in the city, working on street photography and playing the layering game.
We started with our bus challenge. The idea was to try and capture a more compelling image using the layers of buses going around the city. Not just people looking out from the bus window, but adding more elements for the eyes to travel through the frame, or play with the shutter speed to freeze some elements and blur others.
As we entered the train station it started pouring rain – however, rather than ruining the day, the deluge offered us new and different types of photo opportunities.
Once the rain cleared we headed to Galle Face Green for sunset, some local food and some well-deserved cold beers. It was the ideal end to a great tour with a fantastic group.
See you next year, Sri Lanka!

Sri Lanka is an ideal place for a photo workshop. There are so many different locations and different photo opportunities, so closely packed together, that you can dramatically improve your people photography skills while travelling in comfort and staying in swanky accommodation. From fishing towns to tea-covered mountains, train rides to tea shops, historic walled cities to bustling metropolises, Sri Lanka has it all.
I like to call it "easy India" or "India light", as it has the colour and bustle of its much larger neighbour – but without some of the hassle. If anyone wants to level up their people photography skills in busy environments while still getting to enjoy a cocktail on the beach and a comfy bed every night, Sri Lanka is your spot.
Check out the itinerary for my 2020 Sri Lanka photography tour. I've added an extra date next year to give us another much-needed day on the hectic streets of Colombo, so we can indulge in some more advanced street photography lessons. I can't wait!