Photography in Sri Lanka – What's the big deal?
Sri Lanka is fast becoming my favourite place for travel photography that focuses on people. It's a very beautiful country, with plenty of action and bustle… but not as much as, say, India or Bangladesh.

People are very approachable and not as curious about us Westerners as the people in Bangladesh. Why? Well, they've been exposed to tourism for much longer and are simply more relaxed about seeing foreigners walking around with cameras in their hands.

No matter where you go in Sri Lanka, you're bound to be welcomed with big smiles, interesting backgrounds and captivating subjects. Hang out at any local tea shop for long enough and you'll be welcomed into the fold, with plenty of interesting faces and stories to capture.

Which is what, for me, makes Sri Lanka a travel photographer's dream.

Here are some of the best places to visit in Sri Lanka…
…For those who are interested in people photography, that is!
1. Negombo
This beachside town, on the outskirts of Colombo, is where many tourists flock to immediately upon arrival. Maybe they've heard bad stories about the capital city and they want to avoid the noise, the dust and the confusion. They want somewhere more relaxed, a little more luxurious to acclimatise, and Negombo offers just that.

It's a place of contrasts. High-end hotels and ayurvedic resorts line the main road and beach, while in the maze of residential streets you can smell the aroma of sweet tea and hear the unmistakable banging, clanging noise of kottu being prepared.

Note: Kottu is a Sri Lankan classic street food, made from roti, curry, vegetables like onions, leeks and cabbage and scrambled egg. You can get a vegetable or meat option and the modern version comes with cheese. It's really delicious and the sound of the spatulas in its preparation is like music to the ears. Especially if you're hungry after a long afternoon of taking photographs!
One of my favourite groups of people to photograph in Negombo is the fishermen. You can meet them in the market or on the beach – and they're really friendly, even though they're busy drying their fish in the sun.

I also love hanging out at the beach around sunset. That's when all the locals come to the sand for family picnics and games, and when the place really comes alive. It's a total buzz just walking through the crowds and enjoying all the smiley interactions as you do. Plus, it's a prime spot for people photography!
2. Colombo
For tourists, Colombo is like Marmite. You either love it or you hate it. Some people complain about all the traffic, the heaving streets and the shabbiness of the place – but I find it charming.

The city is totally alive, pulsing with energy – and yet, it's still a lot calmer than many places in India or Bangladesh! One of my favourite places to wander around with my camera in hand is in the Pettah Market – a collection of open-air bazaars and markets that are buzzing at all times of the day. Best to get there super early, while stalls are just getting set up. Otherwise, it's a little harder to manage the madness!
Attached to the Pettah (east of Fort train station) is the Manning market or the vegetable market. Unlike the Pettah, which stays going throughout the day, this shuts down around mid-morning. So again, best to rise early.
This is one of the best places for people photography in Colombo. It's even one of the best places for photography in Sri Lanka! Choose to sit at one of the stalls selling street food or simply wander up and down the promenade to snap locals out for their evening walk.

Make pictures of kids flying kites, couples getting cosy at the water's edge and the handful of tourists looking massively confused, but loving it all.
3. Kandy
If you make a list of "best places to visit in Sri Lanka", Kandy is bound to be at least in the Top 3. And for good reason. Its lush green hills, sprawling tea plantations and the magical train journey there are enough to keep tourists coming back for more and more.

It's also a slightly cooler area of Sri Lanka – so a great place to retreat after the heat of Colombo. And even though the city itself might be a little off-putting for some tourists (again, it's loud and bustling and not the most attractive place), it provides some great opportunities for people photography.
Whether you hang out by the lake, amble through the friendly, fun and colourful Central Market, base yourself by the famed Temple of the Tooth, or snap people around the weird 'n' wonderful Helga's Folly, there's plenty to keep you occupied.

Of course, you can always head to the outskirts for really beautiful photo opportunities and a more authentic experience. For example, the tea plantations hold some stunning views, really friendly people and a chance to see the processes involved in making tea firsthand.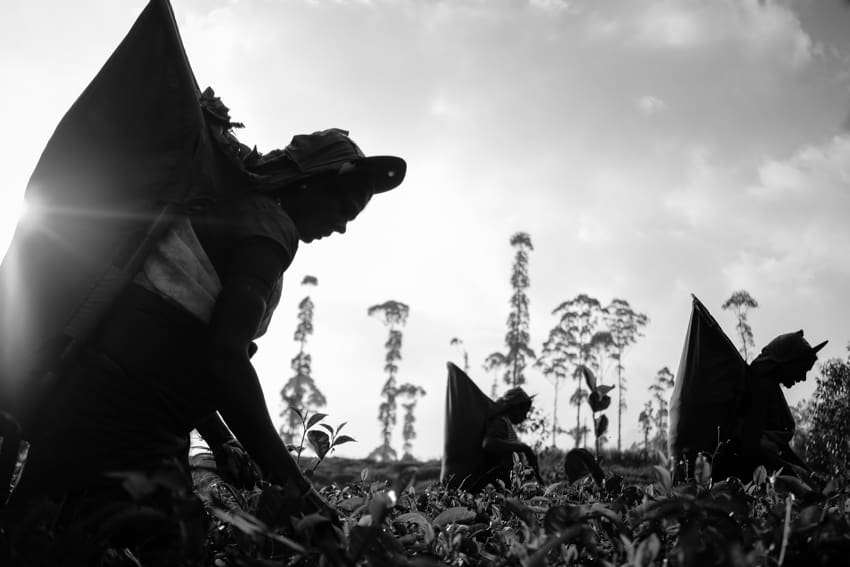 4. Mirissa
Mirissa is a place that's rammed with backpackers and beach party lovers. And upon first glance, it doesn't exactly feel like a place you'd want to spend much time.

But dig a little deeper and you'll find a new perspective. Skip the selfie queens at Parrot Rock or the tourists that pack onto whale-watching boats, themselves like tins of sardines. Avoid the packed streets of Western bars in the interior and head out to the outskirts.
Instead, hang out at Mirissa Fisheries Harbour.
Because this is where you'll find a more "authentic" experience. I'd recommend hanging out at the fisheries harbour before sunrise and watching the fishermen haul in their catch. Not a fake or posed one on stilts in sight – these are the real deal and will result in more genuine photographs.

The light is beautiful at this time, the fish market is bustling and lively – and you can refresh yourself afterwards with a cup of sweet tea and some fried local snacks. The perfect way to boost your energy again!

5. Galle
For me, this is one of the best spots for people photography in Sri Lanka. Why? Well, the Galle Fort area is a UNESCO World Heritage site, for starters. Built by Portuguese settlers in the 16th century and fortified by the Dutch in the 17th, its winding streets and faded colorful buildings are the stuff of dreams.

Another reason to love this place is for its interesting use of light. The way the sun falls down the cobbled streets in the early morning and late afternoon, sneaking in shafts of gold on all the interesting characters who amble about, is perfection.

Finally, I love this place for the opportunities it presents to meet and interact with locals. (In a far more relaxed setting than say, Colombo or Kandy.) Because right outside the maze of streets, above the crashing sea, you can wander along the old walls of the Fort itself. Which everyone seems to do, around sunrise and sunset.
Watch locals engage in their daily game of cricket. Smile at sweethearts taking a million selfies. And chat to all the locals who are bound to want your picture, too! Simply put, a walk around the walls is one of the best things to do in Galle.

Outside the Fort

Portuguese and Dutch influences fall aside and you're smack bang in a Sri Lankan city again. Fun, colourful and chaotic, the streets outside the Fort are well worth a wander. While the beach on Marine Walk offers you the chance to snap fishermen and market sellers hard at work. It's a nice change of scene – and tempo – from the Old Fort. I especially recommend spending some time in the local tea shops surrounding the markets. These are perfect places to meet and photograph the people.
Sri Lanka trains: the best place for people photography!
So there are some of my favourite locations for people and street photography in Sri Lanka. But actually, one of the best locations is a moving one. 😉
Because trains in Sri Lanka provide amazing photo opportunities. The colourful walls of the train station as the train leaves, the interesting characters on board, not to mention the beauty of the scenery you move through, make it a must for any travel photographer wanting to showcase Sri Lankan culture.

Book a 3rd class ticket, hang out around the door area and get ready for one of the most fun experiences you'll have during your trip.
Conclusion: The people make the photograph
While Sri Lanka clearly has some beautiful sights and some very picturesque transport options, it is the people that will make your photographs extra special. They're warm, welcoming and interesting – and this will come across in your pictures.

Of course, I can't write about Sri Lanka without mentioning the recent bombings. It might be enough to put tourists off visiting. But I'd plead the case: don't let it put you off, too. Because Sri Lanka is a captivating place, that's always worth your attention – and if I know anything about Sri Lankan people, they won't let this keep them down. To steal their innate joy.

So visit when you can. Get to know the people, fall in love with this place of contrasts…and make special photographs while you're at it.
Check out the photography tour that we are running in Sri Lanka, the best way to explore the country while improving your people photography skills!