As you may know now I am a 50mm photographer. Most of what I have been shooting in the last 3 years has been done with a 50mm.
2 years ago I bought myself a Carl Zeiss 50mm lens, with manual focus. That would be a good opportunity for me to practice with manual focus and learn about patience and anticipation.
On my last trip to Bangladesh though, I realized how many photos I was missing due to the fact that the lens is manual focus and the fact that when I think things are sharp, they are not. I became a little bit frustrated with it and thought it would be time to change. But I think I just realized that a new lens is not what I need.
What I don't like about my current lens is first the fact that it is absolutely not sharp below f4.0. I mean, come on, Mr. Zeiss I am sure you can do a better job than this! I do spend a lot of time shooting at f2.0 and the lens is not sharp at all. Add on top of that the manual focus thing, and as soon as a subject moves it makes things very difficult (but interesting!).
On a manual focus lens, the camera still gives me a focus confirmation. When the subject is in focus and I press the back focus button, I can hear the bip bip (when it is not noisy) or see the focusing point becoming red (when it is not too bright) or see the little dot appear in the bottom right corner of my view finder (and I discovered that 1 month ago!). Anyway, I realized that when the camera tells me it is in focus, it is not 50% of the time! And this is a big number.
I was playing with the Leica Summicron 50mm yesterday while running my sunset photography tour in Hoi An. I asked my buddy Phong if I could try it and compare it to the Zeiss.
All the photos in this article were taken on one afternoon while taking a group of 5 people through the countryside of Hoi An.
First, and that was my biggest disappointment: this Leica lens is almost as soft as the Zeiss one when open at f2.0. I got 1 sharp image I think. I also think that I have a front focus shift issue maybe due to the adaptor.
Also, and same problem as with the Zeiss, when it tells me I am in focus, I am not. I took about 30 photos of the woman below. Dressed in purple in the green rice fields, perfect colours and light right when we walked past her. Anyway, I focused on her, heard the bip bip, took 3 or 4 photos. Refocused one more time to re adjust (even if the distances didn't change) and took 4 more shots. Refocused one more time, just to make sure, and took 3 more photos. Result: none of them are sharp! The sharp area is about 3 meters behind her….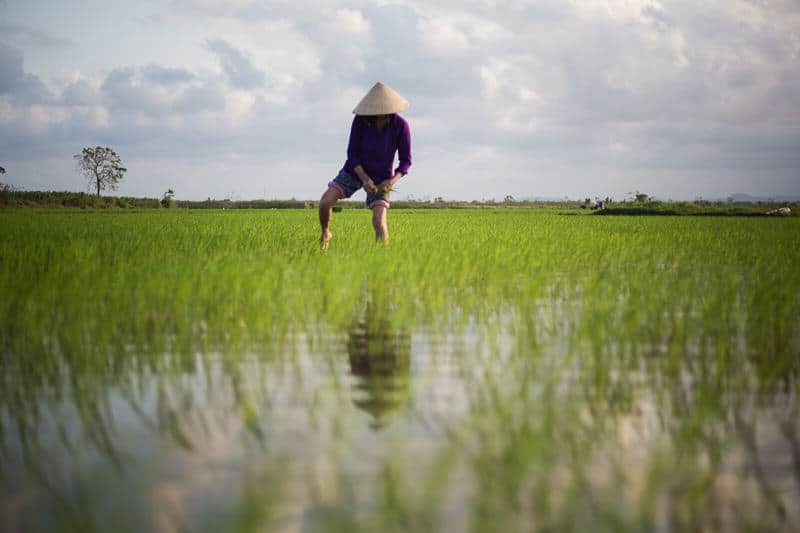 Of course this Leica is a beautiful piece of glass, and renders these amazing colors. But my problem is not my lens…
What I do believe I need is a focusing screen, to make sure my subjects are in focus. I heard it is difficult to get one for the 5DIII but my mate Paul Ratje did send me a few links of screens available in Taiwan. I will give it a go I think. Without focusing screen you rely a lot on your eyes to check the focus, and when shooting at f2.0 it does not help. Also, I won't be young forever and if I turn out like my dad, in about 10 years I will need some glasses (Oh I am not looking forward that, right Mr. JP? ;).