A CLOSER LOOK
This tour begins with Hue ancient city and its beautiful countryside, before heading North along the coastline and visit untouched fishing villages, and end up into the heart of Phong Nha national park.
We will be driving through the impressive karst formations and stop along the way when photo opportunities arise. The people of Phong Nha - Kha Bang national park who have not been exposed to tourism yet will show you a warm welcome, helping us in the process of taking their photos. 
About Phong Nha
Recently opened to tourism, the Phong Nha national park is still a completely untouched part of Vietnam offering amazing photo opportunities. We will be exploring remote villages and photograph the farmers at work, we will capture the sunsets over the impressive mountainous formations of the park, and visit the coastal fishing life of this area. The tour includes several photo reviews as well as people and landscape photography workshops.
BRIEF DESCRIPTION
Because the north-central coast is one of the least-visited regions in Vietnam, with almost no tourist attractions to speak of – apart from the amazing Phong Nha-Ke Bang National Park, we have decided to explore! This protected region is rightly famous for its giant, world-record-breaking cave systems. And it's a true wonder of the world.
TOUR DETAILS
Duration: 7 days
Starting In:  Hue
Ending In: Phong Nha
Participants: 8
Skill Level: All Levels
Comfort: Medium
DATES & TOUR LEADERS
| | |
| --- | --- |
| May 2 – May 8, 2020 | Etienne Bossot, Quinn Ryan Mattingly |
| Aug 1 – Aug 7, 2020 | Etienne Bossot, Jean Ramiere |
8 pax
1750
USD
per Person
Single Supplement $150
Please note that these tours include everything (hotels, transportation, all meals) but excludes your international flight and Visa.
YOU WILL LEARN
peoplelandscapecompositiontechnical
Hue Lagoon
Coastal Life
Phong Nha Town
The National Park
The photographers' road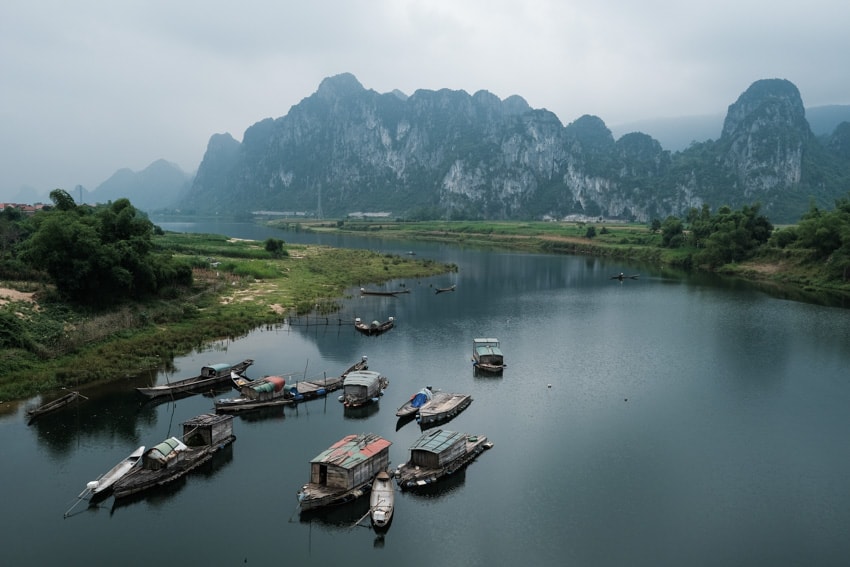 In all our tours we strive to make things easy so everyone can focus entirely on photography. This is the reason why our rates include everything during the tour: accommodation, transportation, all meals, and even tips to local people. What is not included is your international flight, visa, travel insurance, and souvenir purchase.
Like in all our tours led by two photographers we limit the number of participants to 8, for a better and more personalized coaching. As it is the case in my tours, we will mostly focus on people and ways to take their photos, in travel or street photography style. As we are doing photo critiques and Lightroom tutorials, make sure to take your laptop / iPad.
03. Accomodation & Transportation
We will be staying in 3- to 4-star hotels for most of the tour, and in an amazing and comfortable farm stay in Phong Nha. All our meals will be in local restaurants and hotels. All our transportation outside of Hue will be made via our own minivan.
OTHER TOURS YOU MIGHT ENJOY
Here's a few other tours we think you might be interested in.
GET STARTED ON AN AMAZING JOURNEY
Expect the unexpected. Expect to improve your photography skills thanks to spending time with expert, hands-on teachers in some of the most photogenic locations in Asia. Expect meaningful interactions with local people and expect to return home with photographs you can be justifiably proud of, and memories and friendships that will last a lifetime.