For many years now we always receive requests from our clients to run photography tours and workshops in Cambodia. Because of the amount of time it takes us to run all our other tours in the rest of Asia, we never really took the time to set something up over there. By the time we thought about it, we realized that there was already a team of brilliant photography tour leaders in place in Siem Reap. So why not joining our forces to build the best photography tour in both Cambodia and Vietnam?
I met Regis, Chris and Alessandro from Angkor Travel Photography online a few years ago and we always talked about setting up a joint photography tour, as we all specialize in our areas. After some time working on the itinerary, we are proud to offer a joint photography tour that will be an amazing mixture of landscape and people photography.
From the temples of Angkor to the floating life on Tonle Sap lake, followed by the countryside villages around Hoi An and the lagoons of Hue, this is a unique tour for any lover of travel photography. Follow the team of Angkor Travel Photography and Pics of Asia in an exclusive photography tour in Asia.
Cambodia Vietnam photography tour 2019 – Itinerary
July 10th to 18th 2019 – 9 Days.
Srarting in Sieam Reap / Ending in Hoi An.
Part one: Cambodia
Day 1: Angkor Intro and "City on Stilts"
We kick off our Cambodia experience with the vine-choked ruin of Ta Prohm before exploring some of Central Angkor's lesser-known gems. The morning will allow us to explore these temples while they are at their quietest, and begin crafting unique compositions with clever use of light and shadow. The afternoon will be spent at an otherworldly village on stilts above the Tonlé Sap Lake; here we'll get our first introduction into photographing local people.
Day 2: Local Market, Buddhist Pagoda, and Angkor Thom
Our second morning combines a trip to a sprawling local market and a Buddhist pagoda, where we may be able to witness novice monks going about their daily rituals. This session gives us the chance to work on interacting with our subjects, learning to make people feel at ease in our presence, as well as practising our street and portrait photography skills. The afternoon will be spent at Angkor Thom, including Bayon and her 200+ smiling faces.
Day 3: Angkor Wat, Siem Reap Countryside, and Preah Khan
The third day begins with one of Cambodia's most iconic sites, the sun rising behind the five towers of Angkor Wat. We'll get you into the best spot to make the most of this breathtaking opportunity, as well as coach you in the finer details of low light shooting. After exploring the temple, we'll visit a family in the countryside still producing rice noodles with rudimentary machinery. The afternoon will be enjoyed at Preah Khan, the most underrated of all the Angkor temples.
Day 4: Remote Cambodia: Spider Hunter, local life, and Mey Chrey
Our final day in Cambodia begins deep into the countryside, where we'll shadow a local spider hunter as he goes about his morning catch. This allows us to practice our reportage photography and storytelling, as well as capture a side of Cambodia that nobody sees. Depending on how much time we spend "on the hunt", we'll call in at either a small market or pagoda on the way back to Siem Reap town. The afternoon will be spent boating through a remote community on the Tonlé Sap Lake, where we'll have a chance to visit traditional homes floating on the surface of the water.
Part two: Vietnam
Day 5: Welcome to Hoi An!
After flying from Siem Reap you will be landing in Danang, where Etienne from Pics of Asia will be welcoming you. We will be driving to Hoi An for hotel check-in, followed by an afternoon introduction session into Hoi An old town. We will also take some time to relax, taking a break before beginning the Vietnam part of this photography tour.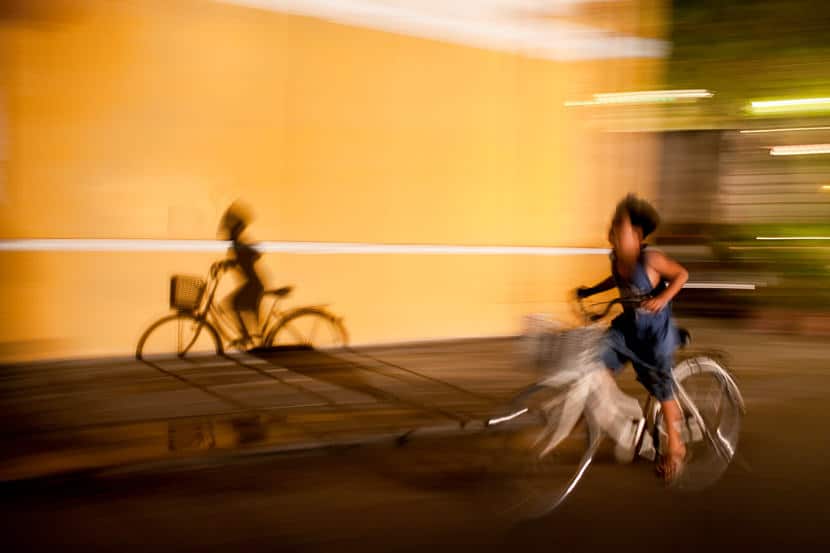 Day 6: Hoi An Countryside
An early start that will be taking to a fishing village South of Hoi An, away from tourist tracks. There we will witness some intense activity and start working on people photography techniques, and how to deal with busy situations. The village is amazing and allows us to stroll through the narrow streets after sunrise, meeting the locals doing their daily activities.
Later that morning we will drive back to Hoi An and have an early lunch in town, before taking a rest until our afternoon session.
Starting at 3 pm, we will drive to explore the fields around Hoi An and witness the farmers in action. We will then be back in Hoi An old town to catch the sunset and do some night photography before dinner.
Day 7: Lang Co lagoon
Another early start in Hoi An to catch the sunrise over the fishing nets on the river delta. After this amazing session, we will spend the other part of the morning in a busy local market, working with different light situations.
Back in Hoi An, you will be able to take a rest until lunch time. After lunch, we drive to Lang Co lagoon and capture a mixture of people and landscape images at sunset.
Day 8: Tam Giang lagoon:
We will be catching the sunrise over the most beautiful lagoon of central Vietnam, where the fisherman come back to the shore after a night fishing. The villages there are very untouched by tourism and offer great photo opportunities. After a rest, we will drive a little further to reach our final destination: Hue.
We will explore the riverside in the city of Hue for sunset, where local people like to go on a relaxing stroll.
Day 9: Hue Countryside
The last of our early starts to explore the countryside of Hue, where small rivers flow into the green fields. There we will find more activity along the lagoon, reflecting all the colours of the sunrise. We will also visit a handicraft factory for great portrait opportunities.
After a break at the hotel, we will drive back to Hoi An, and spend the afternoon on a final photo review in a comfy coffee shop.
The tour will end at the end of the review around 7 pm.