A CLOSER LOOK
We keep going back to North Vietnam every year for the rice harvest. How about visiting this fantastic area when people are planting rice? 
Capture the reflections on the mirror-like rice terraces and meet the incredible people of the mountains. As usual, this tour mixes local markets, people's activities, portraits and a touch of landscapes. 
Driving through the mountains, taking photos when the opportunities arise, having a lot of fun and food while improving your photography skills: this is our mission.
About North Vietnam
What makes the north so special? Why do we keep coming back year after year?
You could say the scenery. it is pretty special. Like nowhere else in Vietnam. 
You could say it's the weather. it's nice to feel the cool wind at night. 
But really it's the people you meet and the opportunities that present themselves. The ones that make you feel like you have stepped back in time 100 years and are the first person to discover an untouched area. Soaring mountain peaks and lush green valleys full of minority people bursting with smiles and friendly faces. As curious about you as you are about them. It is an experience that cannot be matched. And that's why we return. Year after year. It is always a journey of discovery. Nothing is ever the same. and yet it always feels familiar. 
BRIEF DESCRIPTION
This 8-day photography tour in North Vietnam is focusing on people photography and landscape photography in the most beautiful mountains and valleys of North Vietnam. May is the time when people are busy planting rice in the amazing rice terraces. We travel through the most epic sceneries while staying away from the main tourist areas, offering us constant photo opportunities: villages, markets, field activities and landscape photography.
TOUR DETAILS
Duration: 8 days
Starting In:  Hanoi
Ending In: Hanoi
Participants: 8
Skill Level: All Levels
Comfort: Medium
DATES & TOUR LEADERS
| | |
| --- | --- |
| May 19 – May 26, 2023 | Etienne Bossot |
8 pax
2650
USD
per Person
Single Supplement $120
Please note that these tours include everything (hotels, transportation, all meals) but excludes your international flight and Visa.
YOU WILL LEARN
peoplelandscapecompositiontechnical
Hanoi villages
Ethnic markets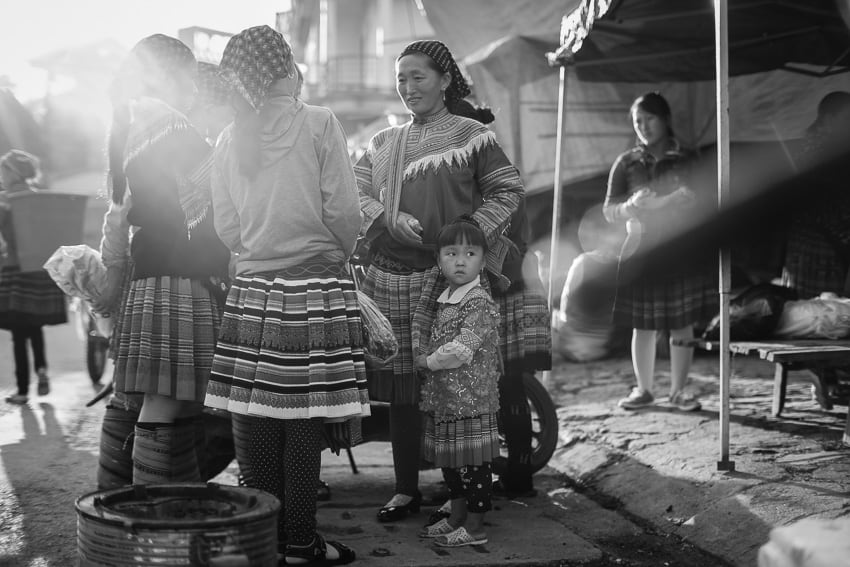 Rice Harvest
Villages
Tea fields
Rice terraces
In all our tours we strive to make things easy so everyone can focus entirely on photography. This is the reason why our rates include everything during the tour: accommodation, transportation, all meals, and even tips to local people. What is not included is your international flight, visa, travel insurance, and souvenir purchase.
Like in all our tours led by two photographers we limit the number of participants to 8, for better and more personalized coaching. As it is the case in my tours, we will mostly focus on people and ways to take their photos, in travel or street photography style. As we are doing photo critiques and Lightroom tutorials, make sure to take your laptop / iPad.
03. Accomodation & Transportation
Because of how remote some of the places we go to are, we will be staying in a few homestays. These homestay are comfortable, and all participants will have their own room. For all other nights we will stay in city hotels.
OUR GUESTS SAY IT BEST
Hear how past tour participants experienced this tour.
Marissa Caruthers
A truly incredible immersive tour that takes you to off-the-beaten-track parts of Vietnam, led by passionate photographers. Highly recommended.
Amy Farley
The North Vietnam Tour was a trip of a lifetime! The photography opportunités were outstanding! Etienne is one of my faves. He has a passion for photography and for helping others develop their skills. It just flows out of him. On the tour, I literally felt like I was in another world. I'm actually planning I'm doing the tour again in 2020. I loved it that much!
Anna Barnes
THE best tour Ive ever been on. Etienne has an energy, joy and passion for Vietnam that matches mine. He is a fabulous tour leader who held the group impeccably. We had fun, we played, we laughed, and we also did some seriously good photography. He took us to places we would not go to by ourselves and helped us to feel safe and comfortable, whilst still maintaining a sense of awe and excitement. This is absolutely a highly recommended company to do tours with by me.
OTHER TOURS YOU MIGHT ENJOY
Here's a few other tours we think you might be interested in.
GET STARTED ON AN AMAZING JOURNEY
Expect the unexpected. Expect to improve your photography skills thanks to spending time with expert, hands-on teachers in some of the most photogenic locations in Asia. Expect meaningful interactions with local people and expect to return home with photographs you can be justifiably proud of, and memories and friendships that will last a lifetime.