Are you interested in joining one of the Pics of Asia photography tours in Asia? Do you want to find out more about what these photo tours and workshops are about? This article is for you.
Article Summary:
I know some of you are busy, and I tend to write a bit too much… so here is a summary of this article:
These photography tours are for anyone looking to have a great time travelling while improving their photography skills. We will teach you how to be a better and more creative photographer. This means we will not be staging photo shoots of any kind. It is all candid photography because a good photographer should be able to handle any situation. And this is the key to becoming a more creative storyteller.
We are also going to visit the less travelled routes and locations. Our goal is to bring you to the best place at the best time of the day, and we have the local knowledge of the areas we travel to thanks to years of research. Sometimes this means walking in muddy rice fields or steep tea plantations.
You will learn about seeing things in a different way to compose more creative images. We will push you to get out of your comfort zone and experiment with new techniques.
If you think you have nothing to learn, please do not come.
You will also learn about the art of people photography, in terms of composition and techniques, and how to approach your subjects with respect and a good ethic.
Our photography tours are usually organized in half-day sessions: shooting early morning and late afternoon, and using the middle of the day to rest or to travel to a new location. Depending on the country we go to, we travel via minivan/bus and plane. We always have a local guide and driver with us so our photographers can focus on you.
It's also about the travel experience and the fun of teaching photography. We are professional photographers, and we make a living from what we love. This doesn't mean we have to be so serious about it. The travel experience should be fun and include more than just photography. It's about the people we meet, the time we share, the food we eat, and the local drinks we try.
It is about joining our community of like-minded, fun and creative photographers who love Asia.
Now, a little bit more details…
Who are these photography tours in Asia for?
If you come to show off your skills and your fancy new camera, then please do not come. I am a photography teacher, and if you do not want to be taught, it will be a frustrating experience for you and me!
My goal is to help you develop your photography skills and be able to capture what you want to capture. Which is why we never stage our scenes. Candid photography, for travel or street photography, is the way to go if you want to improve your skills. But we don't need to stage anything, because we go to the best places.
These photography tours are no tours for you to display and show off your big lens. We get close to our subjects, and specialize in people photography, with a touch of landscapes. I personally mostly work with 35 and 50mm. Of course, bring the gear you want, just know that some gear will limit your creativity (link to getting close).
If you think you're going to show everyone your images and everyone will be impressed, think again. Even though you have been taking photos for 30+ years, I will teach you about the art of people photography. I've lived in Asia for 15+ years and have only been doing people photography. This is what I love doing and what I love teaching. To me, being a good photographer means being able to take a good image in any situation. Sun, clouds, or rain, there are always ways to take striking images. I'm also a commercial photographer, and I've learned that whatever situation you are in, as a photographer, it is your responsibility to make it work, and not blame the weather or your gear. And this is what I am going to teach you.
What you will learn?
My main goal at the beginning of a photography tour is to assess the participants' levels. Before the tour begins, I gather some information about you: I have a look at your images, and I send you a little survey to ask about your interests and expectations.
Every participant is different: some are beginners, some advanced. I cannot be teaching one class for everyone. But these photography tours are a perfect opportunity as you will improve your photography while shooting in great locations, and I will personally guide every one of you depending on your level. I learn to see how you shoot and how you can improve, and I will slowly lead you to a more creative path.
The themes of my photography tours in Asia are travel photography tours with a twist, inspired by street photography. My goal is to try and push the participants to think beyond their comfort zone. And this means shooting wider, getting closer, interacting (or not) with your subject, and capturing a meaningful moment.
Travel and street photography
I am honestly not very much interested in shooting people from far away with a 70-200mm lens. I believe this type of photography often leads to the same bland portrait photos. Which doesn't mean you shouldn't take this lens with you if you have it. But I will push you to get closer and look beyond your subject.
The street photography inspiration that I used to teach photography in Asia pushes us to be more creative, to not shoot the same images over and over and always try to renew ourselves. I want to show you how the influence of other genres of photography can dramatically improve our travel photography skills.
We are also going to talk a lot about Ethics, how to approach people, and creating contact even though you don't speak the language. Creating interactions to feel comfortable taking photos of people so you can take the time to compose and get your shot.
How do my photography tours in Asia happen?
My photography tour in Asia logistics:
From 2024 all my photography tours include airport pick-up and the hotel night before the tour begins. What I want is for you to be able to focus entirely on your photography while we are on the tour. This means everything is taken care of: from your arrival at the airport to your departure at the end of the tour. All transportation, accommodation and food are included! The only extra money you will need is for your shopping and alcoholic beverages (when it's not my shout!).
We always have a local guide and driver taking care of all logistics so I can focus on the photography teachings. The best guide who knows the locations and people well and knows what we are looking for.
Different tours have different levels of comfort, so please be in touch if you're not sure what is the best tour for you (link to contact form).
Physical activities are required. Look at my logo. If you can take this position, then you're good to go! If your knees can bend enough for you to take low-angle shots, and if you're able to put your arms up for high-angle shots, then you should be fine.
A tour like the North Vietnam photography tour involves some walking in villages, rice fields, and tea plantations. That often involves mud and slippery floors. There is no age limit for my tours, but good physical condition is highly recommended.
Locations:
The way I lead my photography tours is by teaching you in the best locations at the best time, to capture the best possible images. And that sometimes means running after your subject, being fast and responsive, but mostly leading the way to get to our location. This is the reason why I often partner with people who are already running photography tours in the locations we travel to. This allows us to access more exclusive and lesser-known locations. And this brings into our group a new tour leader who knows about the area and speaks the language.
The people who benefit most from my photo tours and workshops are the people who stick with me, ask questions, and show interest. If you plan to stay behind and walk slowly to enjoy the scenery, that's fine as well. But the more you ask questions, the more you will learn!
As you can see, I limit the number of participants to 6. I will always invite another photographer to join me to run the tour if I have more than 6 participants. But the top limit is 8 (8 participants with 2 photographer guides is perfect as we can split into smaller groups). These are photographers who are friends but mostly great photographers and teachers. I have been working with them for years, and they are some of the best photographers based in Asia.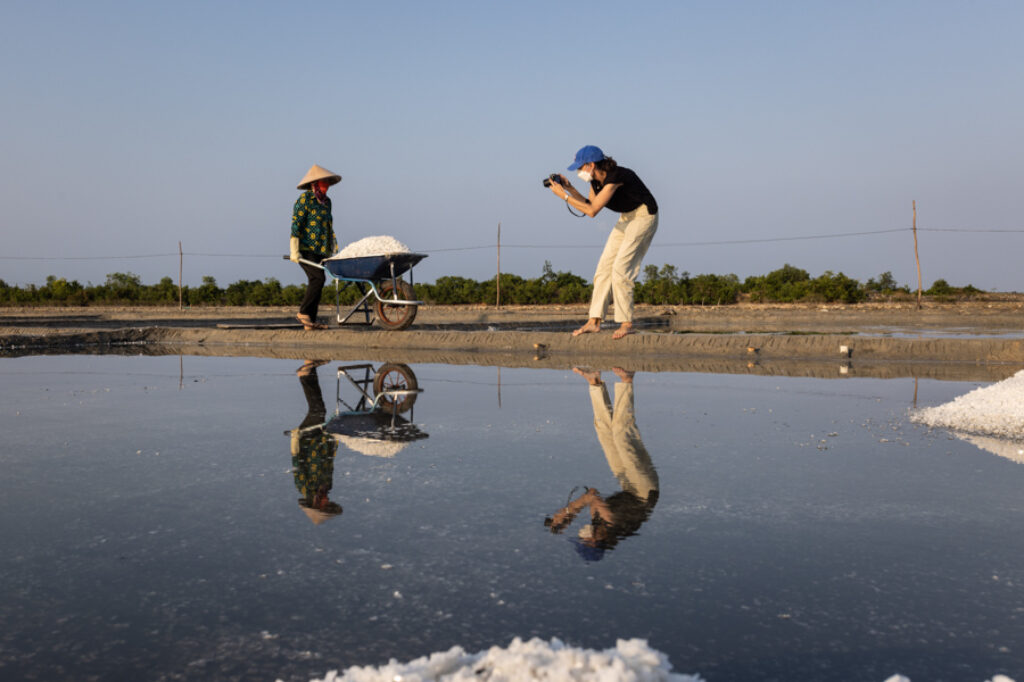 Accommodation:
Because I never stage any scenes on my photo tours (why would I?), my goal is to bring you to the right place at the right time. This means that we are going to travel off the beaten tracks, and we will stay in hotels that are available in these areas. This means we are not going to stay in luxury, but where the photo opportunities happen.
For most of our tours, we are staying in 3 to 4-star city hotels and lodges. for several years now I no longer include shared homestays. Every single tour now offers the opportunity to have your room with a bathroom, air conditioning, etc… Unless it is stated in the tour description.
Now, just to be clear: we are not always 'going' into muddy fields or steep mountains. If you do not feel like climbing mountains, we offer many tours that have an easy pace, and no strenuous activities are required.
But sometimes, it leads to better photo opportunities, and we will do our best to get there.
Food:
I can organize vegetarian meals for most tours, even though it can be challenging in some locations. But it is very much possible. We will be eating local food and if you do not feel like it you should bring some extra food for yourself. But Asian food is so good everywhere we go!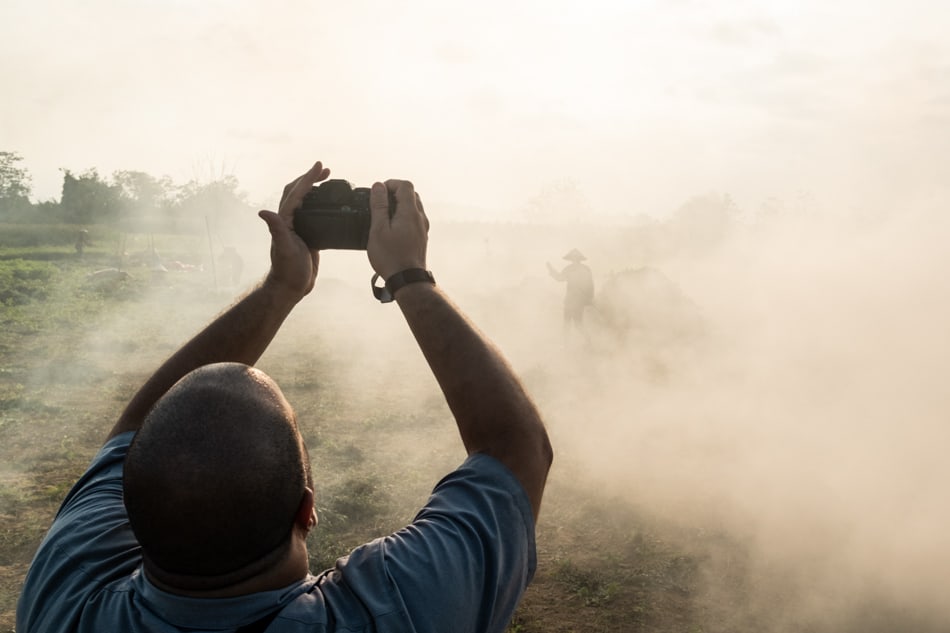 It's also about the travel experience and the fun of teaching people photography.
For me, travelling to Asia is still a crazy adventure! You never know what you are going to get (this is Asia) and the pace of life here makes everything interesting and exciting. I want to immerse you into this pace and get you to love Asia the way I do!
It's also about the travel experience, meeting people, and the food. Come home with new friends, and join the like-minded Pics of Asia community that enjoys the travels, the photography, and the fun (and the cold beers after a long day!).
Yes, I am serious about photography and helping you develop your photography skills, but this isn't a reason not to have fun and joke around. Photography is a hobby, quite often a passion, which means we don't have to be all serious about things.
Be ready to learn and see things more creatively. And have fun. And come home with incredible photos and memories.
If you are interested in joining one of my photography tours in Asia, check out my photo tour calendar or simply get in touch!
And if you are more of a visual person, why don't you check out our previous photo tour videos?