So this is a first for me, I usually don't do gear review, and this is not something I am into (I mean gear). I have been a Canon shooter for the past eight years and haven't bought any new piece of equipment in three years. My 5D Mark 3, 16-35, 35 and 50mm were my go-to lenses. I even reduced that list to simply my 16-35 and 50mm on my last trips, as this is all I need for photography in Asia.
But a month ago, after a long time reflecting on the subject, I decided to give it a go and bought myself a Fuji XT-2. There were several reasons for that: I have been spending quite a lot of time with my friend Drew Hopper who has been shooting with a Fuji for a while now, and really liked the ergonomics and colors his camera rendered. It seems that Fuji has been doing great little cameras, but so have Sony and Olympus.  Fuji, however,  seems to have a better ergonomic. The buttons are beautifully placed and the camera is very intuitive to use.
Also, as I am constantly trying to learn and improve my photography, a new camera system will help me do that. I have been mostly shooting with my 50mm lens for the past years, and have overused that beautiful shallow depth of field style that I cherish so much. But as I tell my students during workshops, if you are comfortable with something, it is time to do something else and learn again. So why not go with an APS-C sensor, restrict that shallow depth of field and build stronger compositions?
But the main reason for the change of direction was Canon itself. I had been waiting for a few years for the new 5D release, patiently waiting and imagining all the new improvements it would have. But this just didn't happen, and Canon offered us a new expensive 5D with basically a new touch screen! I decided that enough was enough. I would not spend any more money on a company that improves as little as possible and puts the price as high as possible.
So it was time for a change and I went for Fuji.
I ordered the camera and got it two days before leaving to run my photography tours in Myanmar and Bangladesh. Five weeks of constant shooting, what a great way of testing a new camera. I got myself a 23 and 35 mm (equivalent 35 and 50mm). This is all I need for this trip, as I won't do any landscape shots. Myanmar and Bangladesh are mind-blowing locations to photograph people. I did not even bring my tripod (yes I got that Bagan temple shot already!).
To be honest, I had a difficult first couple of days. I dearly missed my Zeiss 50mm lens that I mostly use on my canon, that creamy shallow depth of field and flexibility of the manual focus. But I had to keep going and work harder. On the 4th day, I left the Canon in the hotel room. On the 6th day, I put it back in my bag, and haven't touched it ever since.
I believe my photography has changed because of this new system, but this is what I was looking for, exploring new areas of creativity and learning to deal with the change.
So here is a list of the things that I like about the XT-2, and the things I don't. This list comes from a former Canon shooter of course (did I just say former?), and it would probably be different if I was coming from a different background.
Fuji XT-2 Pros
– It is much smaller and lighter. This is not the reason why I got the camera (my 5D and 50mm were not that big and heavy) but I have learned to appreciate the weight difference over time. Camera in hand, spare lens and batteries in my sling bag, ready to go!
– As I mentioned before, the ergonomic is great. I found it very easy and intuitive to adjust my "finger automatism" to all the buttons (some improvement is possible, however, as discussed below ). I was worried that my big fingers would struggle to get a good grip on it, but this was not the case at all.
–  Oh that tilt screen, this is a wonder. I had never used one before but I am now addicted! Shooting high, low from the hips, etc… becomes so much easier with it. I don't need to lay down on the floor anymore to frame, I can see everything from above. Compare that to the new 5D Mark 4 touch screen… what a joke!
– The electronic viewfinder (EVF) was also a new thing for me. But I have learned to love it. What you see is what you get. No need for test shots to check the exposure, just look at your screen. Brilliant!
– I don't update my Lightroom while on the road (blame the Internet) so I can't even look at my Raw files. So I have been shooting Raw and Jpg, and honestly, I wonder if I should keep shooting Raw! The Jpg colors are fantastic, the film simulations superb, the photos are stunning straight out of the camera. Actually maybe a little too stunning, I have found myself needing to desaturate the blues as my skies were looking a bit too flashy. But the Classic Chrome film simulation can also fix that.
– I am using the silent electronic shutter as well. That is not making any difference to the photos of course but I found it quite useful for portraits. As you know  I tend to shoot quite a lot when doing portraits, trying to capture the subtle expressions and movements of my subjects. This can be a little disturbing for my subject, hearing the mirror going up and down as in a paparazzi barrage. Well, not anymore. On top of that, the electronic shutter can get up to 32000th of a second, so shooting wide open in the bright sun is no longer an issue. Bye bye ND filters!
– I find the metering being top notch. Very rarely have I been under or over-exposed when shooting correctly exposed (meaning my exposure compensation being on 0) unlike Canon being most of the time overexposed (I used to always shoot at -1/3 or -2/3)
– The Xt-2 does an amazing work in high ISO. Check out the image below, at ISO 4000!
Fuji XT-2 Cons
Now of course, nothing is perfect, and there are some things I wish Fuji would modify (surely they will be reading my review!). There are some things I miss compared to my Canon, and I will talk about them later. – I find the View Mode button (to switch from viewfinder or screen display) difficult to reach. Maybe I have big fingers, but I have missed it so many times in situations when I needed to adjust it quickly. I was hoping that I could set up a function button to do that job, but this is not available. Maybe in a future firmware update?
– Again about the view mode, when I am using the "eye sensor" mode (meaning the screen is on, but the viewfinder takes over when I look into it) and tilting the screen up to shoot from the hips, the screen will switch off when it is against my body.  Meaning I have to put the camera away from my body before the screen starts again. Maybe the distance set by Fuji from the viewfinder to the closest thing should be shorter?
– The button, placed in front of the camera, to switch from AF-S to AF-C to Manual focus is a little tricky to use. When in AF-S trying to go to AF-C, it is easy to push a little too hard and end up in manual focus mode. I will talk more about that in the last part of the review.
–  I have had some trouble and frustration with the AF-C. I found that when taking several photos in a row (not in continuous shooting, still on single) the camera stopped tracking my subject. I have tried a lot of combinations with the focusing mode, drive mode, focusing area, but I haven't found the best way yet. For me, that is the biggest flaw on this camera.
– Traditionally, battery life is not great on the Fujis. I was a little worried about it and got myself six batteries before I left, but it is actually not that bad. But in order to save the battery as much as possible, I end up switching my camera on and off all the time. That saves a lot of battery and I can easily shoot half a day with a single battery.
–  I am a bit lost when using Manual focus, as the focusing ring can turn indefinitely. Not sure where to start and where to stop, I do miss the old style focusing ring like on my Zeiss lens. But it's just me being a little fussy right now. Or I need a manual focus lens!
– I used to be able to switch from Aperture mode to Shutter speed more in one move with my Canon, in case I wanted to do a quick panning shot for example. On the Fuji I need to turn the Aperture ring, and turn the shutter speed wheel. 2 moves instead of one, it is not much but I did miss a few shots because of that.
It seems that the cons list is longer than the pros, but overall I am very happy with this new system, and the things I dislike are far from matching the things I like. And even though I missed a few shots because of the AF-C, the Xt-2 still managed to track focus this man in a dark market.
What I Miss from My Canon
– the main thing that I deeply miss, and I really wish this could happen, is what I call the "magic button" on my Canon. You know that Depth of field preview button that no one ever uses? Well, you can set it to switch from AF-S to AF-C (One shot to AI Servo) when pushing it, and this is something I was using all the time when using autofocus lenses.  For everything, mostly for close up portraits. When using a very shallow depth of field, and shooting someone, there is always some movement happening: my subject moving back and forth or even just my hands slightly moving. One push on the magic button and every shot were sharp. Now, I can't do that anymore. I need to use my left hand to switch to AF-C with great care (so I don't push it to Manual focus), and it takes more time. That is something I really much miss.
– As I mentioned before, I think the continuous focus (AF-C) is not great. I have missed many shots because of it, but I am still trying to figure it out, I may not be using it properly.
– I wish I could still go and shoot for days without even worrying about my battery, but now it's the mission every time I get back to my hotel room: quick, let's find a plug and start charging batteries. It's ok though, I am just being a little princess right now. No big deal.
What I Do Not Miss from My Canon  (you wonder when is the article going to end right?)
– the weight, of course. No big deal as I said before, but still makes quite a difference.
– I can now talk to my subject face to face while shooting them. I am used to talking to them when taking their portraits (as I described in this contact sheet) but there was this big camera between them and me. Not anymore. Tilting the screen, moving the camera on the side, super simple and efficient.
– I don't miss the little nob on the back of the Canon that is used to move the focusing points. The Fuji one is small and smooth, moving very well and much faster than the Canon one.
– I can't say I don't miss the Canon Jpg files as I have never shot Jpg before, but I am damn sure that the Fuji ones are much better when using the film simulations.
– Oh yes one more thing: while walking the streets I can check all my settings in one quick glance. From above I see my ISO and shutter speed wheel, as well as my aperture ring. A quick check that my settings are right and I can shoot, without having to press the shutter to see the digital screen on top of my Canon.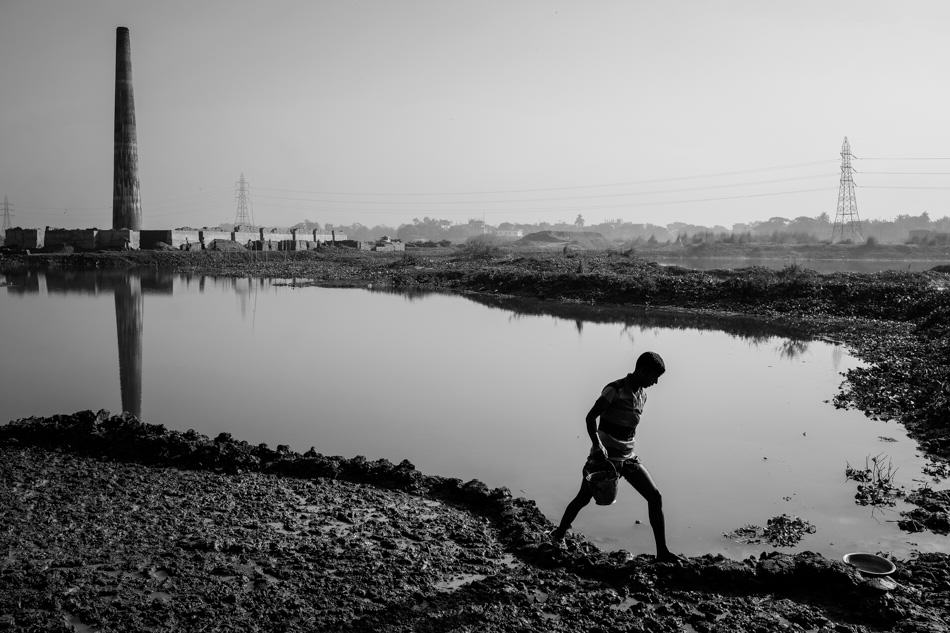 The Wash Up
Well, this is it! I am loving this new camera and will keep shooting all my street and travel photos with it. Of course I am keeping my Canon system for my commercial work (I need my macro lens for food photography and my wide angle for landscapes) and my weddings (I am actually a little worried that the clients will look at me arriving with my "small" Fuji and ask why I am not using a professional big camera…) I know it is silly, and it is our job to educate the clients, but on the wedding day there is enough pressure on the couple that I don't want to add any more.