Learning to see more Creatively
By Quinn Ryan Mattingly, featured Pics of Asia photographer.
If you've lived in Asia as long as I have, and clicked the shutter on these surroundings as many times as I have over the years, there's a slight chance the sparkle can wear off a bit. That's not a good thing for our creative muscles, so what can we do to? Let's try to learn to see things a little differently and creatively!
I remember the very first time I visited Vietnam after I'd just bought my first DSLR. On the ride from the airport to central Saigon, I must have snapped 200 photos from the taxi window. Everything was so chaotic, colourful and interesting, I thought there's no way to take a bad photo. Needless to say, I proved myself wrong in about 1 minute flat! And did it again with India a few years later (though I eventually did slow down and make some frames I liked!)
So the take away was, it's less about the scene and much more about how you see it and capture it.
Now that I'm an experienced professional photographer, and see the chaotic sights of Saigon and Asia every day, how do I keep my eyes trained on the 'good stuff'? The answer for me has been to try to learn to see more creatively. For this article, I'm going to focus a bit on how I use reflections and framing in my images to hopefully see and capture something different to what others might.
Framing is a technique I love to use. Quite simply, it's just about creating a frame inside of your image, that helps guide your viewer's eyes right where you want them to go. It can be something as literal as a window, or an object, flower, tree, etc, whatever might be nearby. However, there can be a few 'rules'. For me, a frameworks best when it adds some relevant context to the subject and scene.
Using the rope as the frame both helps guide the eye to the subject as well as adds context to the actions and the scene.
The candles, though not exactly a frame, are composed in a way that helps lead the eye to the subject, and adds context and colour to the image.
Using the plants that were in front of me as a framing device, adds some colour as well as pushing the eye to the subject.
Another technique I've trained my eye to see is reflections. If you've been out shooting with me even for a few minutes, you know I can usually be found squatted down over a puddle or sucked into a barber shop, shooting the crap out of the mirrors! Reflections for me can serve a few purposes. First, they can give a different perspective on the scene, ie shooting into a puddle to reflect the upside down scene around. Or they can also be used to show what's in front of and behind the subject at the same time. Thirdly, but probably not last, reflections can be used to add elements, depth, or texture to your image.
While my tour guests were in a position to make a portrait of her, I noticed the reflection from where I was and used it to make something different.
Reflections can also be used to add depth and additional elements of the environment to the image in an interesting way. Here, I used the reflection of the river behind to not only show where the room was positioned but to put some texture on the portrait of the subject as well.
Reflections of the workers in a salt field, another of my favourite places to shoot!
And finally, an image that employs both techniques. I used the small mirror placed on his bed to capture both a portrait of the monk and the space he lives.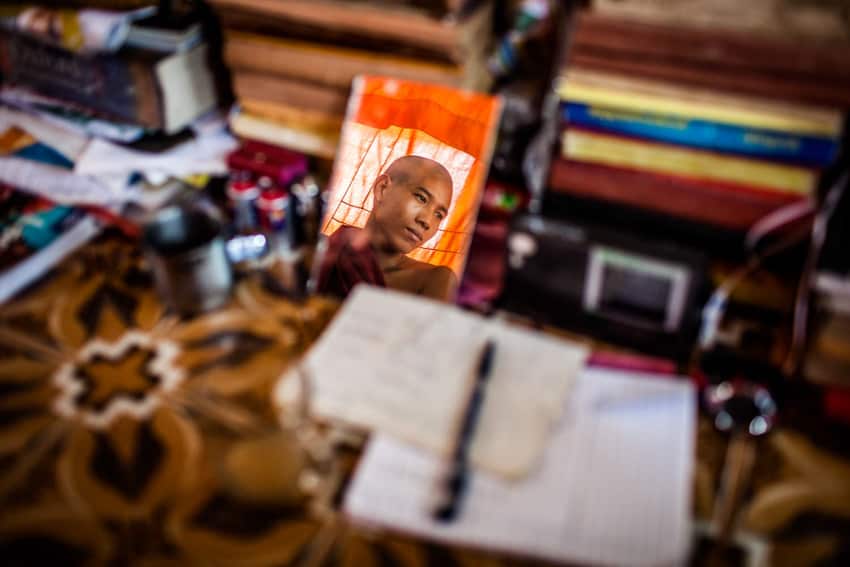 So, next time you're out shooting, and maybe not feeling so inspired, keep an eye open for opportunities to use these two techniques and see if you can create some interesting and unique images!
Quinn Ryan Mattingly will be co-leading the Myanmar photography tour in October 2018.