This photography tour in Ninh Binh and Nam Dinh regions in Vietnam were a first for Pics of Asia. After a successful tour in Ninh Binh last year we felt that we could have explored more untouched areas, getting closer to the coastal area. Hence the reason for this tour. Nam Dinh is a fairly untouched area where only a very few tourists venture. It offers numerous great photo opportunities, with lots of fields and farmers as well as a very busy fishing life on the coast.
The itinerary for the 2019 tour will be the same.
Day 1:
We started in Hanoi with a morning shooting on the streets. Similar to our North Vietnam mountain tour, that morning is a great warm-up session for everyone, going through camera settings and composition techniques. We also introduced some basics of street photography, which will be a great inspiration for the group in the coming days. After breakfast, we left with a mini Van to Ninh Binh area. We had a few stops on the way capturing brick factories outside of Hanoi.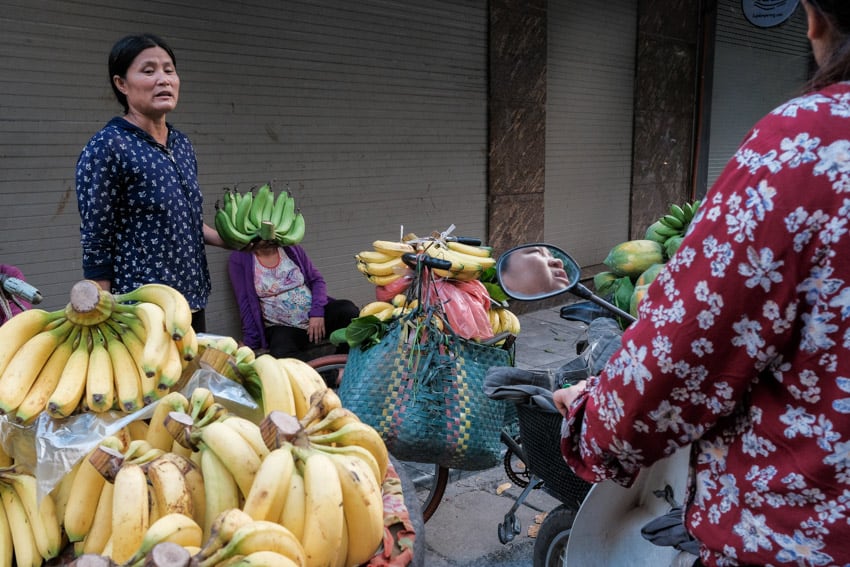 Day 2:
This day is about getting lost around Ninh Binh region. The amazing karst rocks make tremendous backgrounds and we drive around searching for human activity in the fields or the river. Lucky for us, there is plenty of that at this time of the year. Due to a cloudy day, I shot a lot in black and white.
We also visit a few markets around Ninh Binh and end with a beautiful sunset on the river, where some barbecue awaits us.
Day 3:
On that morning we drove a few hours to enter the area of Nam Dinh, popular for its fishing activity, churches and peacefulness. Before arriving at our hotel, we stopped several times on the way to capture the action we found. There are a lot of fish, shrimp and clam farms where we can always find people at work. Also, because the area doesn't see many tourists, the people are very curious about us and we can easily start a chat, making photography even easier.
Day 4:
We started that morning very early in order to witness the fishermen unloading their catch. The seashore was full of people buying and selling fish, and the morning colours stunning at that time of the year. Later on, we visited a salt farm where a few elderly people still work in the traditional way, pushing water from pool to pool.
Later that afternoon, after yet another epic seafood lunch, we met two men who were busy dragging clams from the seashore. We spent some time with them in the water, applying different composition techniques at sunset.
Day 5:
We couldn't not use our last early morning to photograph the fishing activity again, but this time we were looking for something different. Lucky for us, we found it, and we spent an hour in the water following this man, dragging for shrimps with his giant triangle net. A great experience that we all enjoyed, bathing in the warm ocean while taking great photos!
We also enjoyed this time to find a great local breakfast in the main market, also enjoying the beautiful light filtering through the roofs.
After lunch and a few more photo opportunities, we drove back to Hanoi and had our traditional goodbye dinner.